A flame-proof ForkTrack: I'd like to see that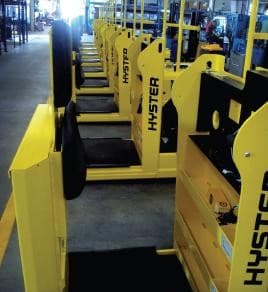 Flame proofing of Fleet Management systems has always been a difficult if not impossible task, but ForkTrack has taken this a step closer with recent collaboration work conducted in Italy.
Miretti SpA, a world leader in Hazardous Area Equipment Protection, in collaboration with Adaptalift Hyster (AALH) Engineering, has designed, installed and laboratory tested the ForkTrack system on 16 new battery electric vehicles bound for an Australian manufacturer.
Engineers from AALH travelled to Italy to work with the Miretti engineers to develop wiring and hardware to Zone 2 Cat3G compliant levels, including extensive documentation and environmental protection considerations.
The ForkTrack system was also directly integrated to the Miretti EOS Gas Detection system also fitted to the vehicles, which is designed to detect volatile atmospheres and disable equipment should the risk of explosion exist.
All components of the ForkTrack system were broken down for inspection, noting any aspects of design or manufacture that could potentially provide an ignition point when operating in a hazardous environment.
Modules were pressure tested and all connections rated to ensure no possible exposure to volatile environments.
The European testing house Electro Suisse inspected the finished products on board each of the equipment types, providing full approval of the truck installation to Zone 2 Category 3G.
The ForkTrack system provides operators of hazardous equipment with a level of fleet management previously unavailable due to the constraints of compliance. The system has been integrated further to allow access via the use of site specific security swipe cards, ensuring that operators of the equipment are both fully licensed and authorised. Combine this with impact detection, pre-start checklists, safety interlocks and much more, and you have one of the most powerful fleet management systems available.
Adaptalift Hyster
Ph: 1300 880 335
www.aalhysterforklifts.com.au