FKM BUYS INTO CONCEPTLASER'S ADDITIVE METAL 3D PRINTING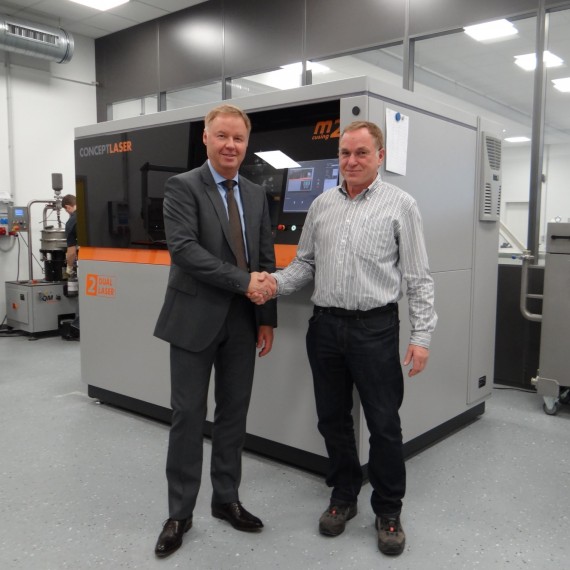 To outfit their new 700m2 metal additive-construction production hall, FKM Sintertechnik has ordered several machines from Concept Laser, further expanding their 3D metal printing capabilities.
The new production area is built in addition to the already existing 3000m2 zone, and is part of FKM's move to meet the still-growing demand for additively printed metal. FKM is one of the largest providers of additively produced products in Europe, and this expansion is aimed to keep them atop the industry.
Harald Henkel, Managing Director of FKM, said "The market is currently developing toward batch production of 3D metallic products. In addition to the classic small batches and prototypes, industrial production lot sizes with a distinctive serial character are appearing now as well. With the strategic expansion of our 3D printing capacity, we want to be able to respond to increasing demand in a very flexible way and also to get in on increasing product dimensions."
The FKM Sintertechnik machine park already features the Mlab cusing and M2 cusing models from Concept Laser, as well as models from other suppliers. They were accompanied by a new M2 cusing Multilaser last fall, and as Harald Henkel explains, there's more to come: "We have ordered another M2 cusing Multilaser for 2016. Build rates and the suitability of Multilaser technology for batch production fit very nicely with our business strategy, and we also want to be involved with very large build chambers. A new X line 2000R from Concept Laser featuring the world's largest build envelope for powder-bed-based laser melting with metals will be delivered to us here in Biedenkopf in Q1 2016."
Machine solutions from Concept Laser impressed the decision makers at FKM Sintertechnik GmbH thanks to the systems' high-quality and rugged design and the stringent safety standards applied in accordance with ATEX directives for the safe processing of reactive materials. In addition to their "external values," the systems' high performance and excellent surface quality are also impressive.
ConceptLaser continue to innovate and improve upon their designs, expanding build capabilities and energy efficiency. Previous advances in additive manufacturing have given the manufacturing industry components that have not been possible by other, more traditional means, and the future looks to bring further advancement.
Concept Laser