FIVE STEPS TO BECOMING A CIVIL ENGINEER
15-09-2015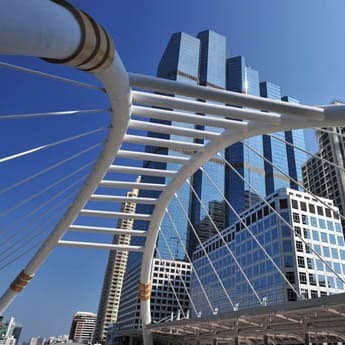 Civil engineering isn't a trade that begins when you start university – it evolves long before that.
Whether it's in the excitement of building blocks and LEGO as a child; testing how long a bridge you can create or how tall your tower will be before it crumbles to the ground, or within the skills you learn throughout high school classes – you start to become prepared for a future in civil engineering.
But there's something different in the way that the child who enjoys playing with blocks builds, to the one who is destined to become a civil engineer. Their attention to detail, their discipline and their art in problem solving. Perhaps this child was you.
Whilst engineering may not have been a future job idea then, it is now. So how do you make it happen? What skills did you develop back then you can be utilising now? Where do you go from here?
Here are five essential steps to becoming a professional civil engineer:
1. Getting interested in civil engineering, what does it really involve?
Civil engineering tends to be associated with the world's most jaw-dropping structures, like the Sydney Opera House, the Eiffel Tower, the Laedal Tunnel and other highly impressive engineering projects.
But there's more involved than just creating that 'wow' factor, civil engineering is responsible too for the maintenance and development of the infrastructure we depend on each and every day.
Like all engineering disciplines, civil engineering is a science. A science that's disciplined in dealing with the design, construction and maintenance of our physical surroundings. To master it, you will need to be a creative individual with a strong ability to solve problems.
2. Study the right subjects
After the fun and problem solving skills are over from building LEGO blocks as a child, the preparation for a career in civil engineering starts in primary school, evolving significantly throughout high school. Subjects such as science and math should be taken early on in high school as an advanced placement to ensure you pick up the right skills to assist with the job.
Consider physics, chemistry, biology and computer science to boost your civil engineering skills and knowledge early on.  Other subjects like algebra and trigonometry too, are all part of the daily work for your future career so make sure you sharpen up on these topics. The job requires a high level of creative skills too, so show interest in art and design and technology to boost this side of the brain.
When it comes to civil engineering, maths and science are of the upmost important. It's these subjects that help you to understand and measure the forces and movement of certain structures, and how they can be supported from the ground up. As a civil engineer, you'll be creating things that didn't exist before – and maths, science and creativity plays a huge role in this. Doing well in these subjects will get you ready for a Bachelor's degree in engineering come university time.
3. Obtain the right skills
By knuckling down with the right subjects, you're well on your way to developing the essential skills to a fulfilled career in civil engineering. But there's everyday skills you can be learning too, to ensure an even more successful future in the industry.
People skills are important for the customer service aspect of civil engineering, and being able to take on board new projects. Clear communication talents will assist in getting your ideas heard, inspiring confidence in your clients and colleagues and maintaining high levels of professionalism. Whilst civil engineers can be terrific at solving problems and designing amazing structures, there's many who lack the ability to articulate decisions, problems that can arise on the job and information to clients.
Because you are working on big projects that require strict deadlines, time management and organisation are a great set of skills to acquire too. What can be the difference between a civil engineering project that's profitable, to one that costs you too much money, likes in how much time the engineer – you – have spent on the job. The faster and more efficient the project is, the better it is for you and the company you're working with.
4. Sign up for industry-related work experience
Getting as much industry work experience as possible is a foot in the door for a world of opportunities. Not only does it allow you to use the skills you've been developing, but it provides hands on experience in the field which in reality – beats sitting in any lecture or classroom behind a book learning.
There are many high profile civil engineering companies that offer focused training to both high school and university students through work experience.
By getting as much hands on experience as possible, you'll gain a bigger confidence in the industry, your work and learn in-house skills that will prep you for your career. Not to mention, it'll look fantastic on your resume!
5. Get licensed
To have a professional career in civil engineering, your preparation work doesn't stop when you finish university or undergo work experience. In most states, you will be required to obtain a Professional Engineer's License (PE) – a certificate of qualification that'll be your golden ticket into the workplace.
Whilst the licence may not always be necessary (depending on your location, where you work and what you want to do in the industry), it comes with a few great benefits that are hard to say no too. Flexibility with where you work is one of them, as is better pay, credibility as an engineer, career development and that much needed respect in the workplace. To obtain the PE license, you'll need to have a Bachelor's degree in Civil Engineering and a good 4 years of work experience under your belt.
 
By Jayde Ferguson
*Jayde Ferguson writes for DM Civil Contractors, a leading civil engineering solutions provider. www.dmcivil.com.au