Five reasons to choose apprentice group training
31-08-2010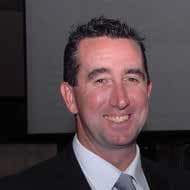 By Nick Couper
Group Training excels in the employment of apprenticeships and traineeships.
There are many benefits of using Group Training, but here are five excellent reasons:
Apprentice management
The most important person in any apprenticeship is the apprentice or trainee. They are the reason why we are all working together in the first place – host companies, Group Training Organisations (GTOs), Registered Training Organisations (RTOs), schools and parents.
Group Training provides a combination of safety nets to apprentices and trainees through various methods, including the advantage of having just the one employer and being able to choose from a vast choice of industries.
Providing a human resource function to companies
A Group Training Organisation holds the contractual employment obligations when employing an apprentice or trainee. It covers all aspects of the employment needs and services that many companies, whether small or global organisations, may not have time to do.
A national Group Training organisation like MIGAS, the largest employer of apprentices and trainees, does all the coordination.
It will do all the running around to manage your apprentice, so you can focus on what you do best – running your business.
Group Training Organisations act as a monitoring service
We constantly field questions from mums and dads regarding this industry and how it fits in. It is after we talk our way through the two above points that parents often comment that they are happy companies like MIGAS exist.
They feel secure that they have an external party looking out for their son or daughter.
Group Training is knowledgeable in a wide range of industries
During the cycle of an apprenticeship and traineeship we also offer schools a great service.
With the diversity of industries we employ in and the large geographical areas we cover, we can offer a range of advice and opportunities for students.
Basically give MIGAS a date, a topic and an audience, and we can talk to students on making the right choice for their next step into a career.
We do this through career days, guest speaking, mock interviews, work experience capabilities, and a fantastic program called "Try-A-Skill."
At the forefront of workplace safety
Safety is a vital part of doing business.
Safety matters, safety saves money and, more importantly, safety saves lives.
Though I have listed this as point five it does not mean it is any less important.
I want this to be the last point read so it will be remembered first.
Our dedicated and coordinated teams are at the cutting edge of safety, constantly reviewing and updating our needs for equipment and processes to maintain the best possible standards.
MIGAS receives the latest information and, with our industry partners that have the same safety culture, we ensure all measures are in place so your sons and daughters get home safely.