Fitness group finds a Dynamic storage solution
31-08-2010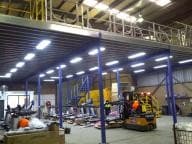 Storage problem solved … Life Fitness finds a Dynamic solution
Global fitness company Life Fitness recently approached Dynamic Warehouse Solutions to provide an effective solution for their storage needs.  
The storage and logistics of fitness equipment provides its own challenges due to the size and weight of the equipment, from treadmills to large gym sets weighing up to 700kg per piece.
The use of conventional pallet racking had proved to be a slow and was an ineffective way to store and access these items. It also lacked the flexibility to cater for the different sizes and nature of the equipment.
The solution to this problem lay in the design and installation of a 600m² Raised Storage Area, which was designed and fabricated to suit the layout of the existing building. 
With large spans, spanning over existing offices and amenities, it enabled the team at Life Fitness to double their floor area in the allocated space.
The unique raised floor concept created by Dynamic, has created large open spans beneath the floor to be effectively used for assembling and packing areas. At the same time, the available air space has transformed the existing warehouse into a large storage platform, complete with safety loading gates and a staircase to provide pedestrian access to the floor.
From the Initial design, including the generation of 3D drawings, through to fabrication and installation on-site, Dynamic Warehouse Solutions were able to provide a turnkey solution and complete the project in less than six weeks. This meant the team at Life Fitness were able to carry out their day-to-day work with minimal interruption.
Dynamic Warehouse Solutions are experts in raised storage systems, providing innovative storage solutions for productive workplaces from small racking supported floors to large multi-tiered raised office areas.
Dynamic Warehouse Solutions
1300 668 468