FIRST BATCH OF WINE FROM A TINY BOTANIC GARDEN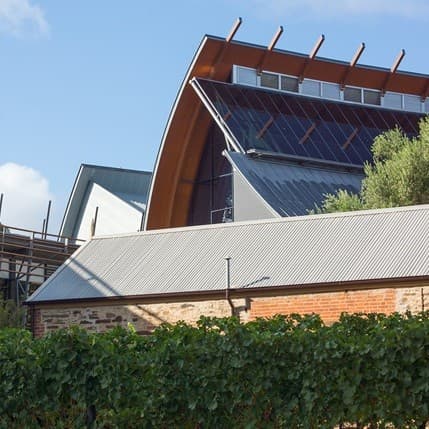 Continuing the recent trend of booze-related advances, a small, city-located botanical vineyard in South Australia has produced its first batch of wine.
The limited edition wines are believed to be the world's first wine produced solely from grapes grown within a botanic garden.
The 1200 bottles of wine (produced in both a rose and a dry white) are the result of a partnership between National Wine Centre, Botanic Gardens of South Australia and Jacob's Creek.
The CBD vineyard is located in the south-eastern corner of the Adelaide Botanic Garden on land owned by the University of Adelaide land and managed by the National Wine Centre.
The vineyard, which features 16 grape varieties including Shiraz, Merlot, Tempranillo and Riesling, has been used as a demonstration site for drought-tolerant vine varieties suitable for South Australia's dry climate since 2011.
Botanic Gardens of South Australia Acting Director Janice Goodwins said the project was a unique and exciting partnership, and a reminder of the importance of plants to culture, the South Australian economy and our daily lives.
"Wine is intrinsically linked with South Australia – as a state we have some of the oldest grape vines in the world and we produce 75 per cent of Australia's premium wine, bringing in just under $2 billion in gross wine revenue to accompany international acclaim," Goodwins said.
"To be able to demonstrate this ancient process of cultivating a crop, fermenting its grapes and transforming it into a tantalising product for people to consume – all in the green lungs of our city – is a massive coup for all involved."
National Wine Centre General Manager Adrian Emeny said the partnership had been a true collaboration from vine to bottle.
"The vineyard has long been admired by visitors and it's fantastic that through this partnership the fruit will be turned into wines that carry a unique story. They'll have a real point of difference being produced from grapes grown in the heart of the city," Emeny said.
Following an official launch on September 14, the wines are expected to be available at the National Wine Centre and Botanic Gardens Restaurant.