Published 30-03-2021
| Article appears in April 2021 Issue
First Australian performance electric motorcycle driven by Optibelt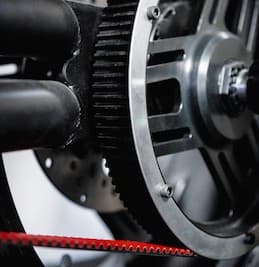 An innovative Optibelt Delta Chain Carbon Drive belt application is going to power the first Australian designed and built performance electric motorcycles, manufactured by Savic Motorcycles.
The motorcycles require an exceptional drive and for the manufacturing of the Savic motorcyles they partnered with the engineering expertise of international leading drive belt manufacturer Optibelt.
The man behind Savic Motorcycles is 28-year-old engineer Dennis Savic who, together with a rapidly growing team, has developed three different specifications for the manufacturing of the electric motorcycles, the C-Series.
This follows the launch of the concept prototype at the 2018 Australian Motorcycle Expo, the second generation prototype in November 2019 and the production prototype in 2020. 
The motorcycle prototypes are all direct drive to the rear wheel where the in-house designed rear wheel pulley has three spokes which line up perfectly with the spokes of the rear rim, which is also designed and developed by Savic and his team. The belt width running on the motorcycles is 36mm which is the widest belt in the EV market according to Savic principal Dennis Savic.
For Savic, motorcyles' high torque applications such as superchargers on drag cars and high performance motorcycle drives, do require high performance products, which is where the Optibelt DELTA CHAIN Carbon excels.
The Optibelt DELTA CHAIN timing belt can provide 100% power transmission compared to high performance rubber timing belts.
Compared with a roller chain drive, Optibelt DELTA CHAIN carbon timing belts are cleaner, lighter, smoother and quieter and require no adjustments resulting in less maintenance and a longer life cycle. All these qualities were essential when designing a drive system for the high performance motorcycles.
The polyurethane construction combined with the carbon fibre cords of the Optibelt DELTA CHAIN Carbon delivers a product that is resistant to contamination by water, a wide range of chemicals, oils and fluids; all important factors in a motorcycle application.
At the same time, the wear resistant red bonded fabric increases the sheer strength of the teeth meaning that constant and fast acceleration is possible, making the Optibelt DELTA CHAIN Carbon the perfect partner in style and high end performance.
The manufactured range that is now offered comprises three models, being the Alpha fitted with an 11 kWh battery for a 200 km range, the Delta with a 9 kWh battery offering a range of 150km and the commute-focused Omega with a modest range of 120km.
The prototypes now virtually complete, compliance testing underway and the first production run of 50 motorcycles all pre-ordered, the team expects to commence production by mid-2022.
With order books for the first manufacturing production run full, there will be great excitement to see these Australian designed, engineered and fully built electric high performance motorcycles on our roads.