Published 07-07-2020
| Article appears in August 2020 Issue
FIREPROOF WRAP HOSES HIGH-RISE FIRE CRISIS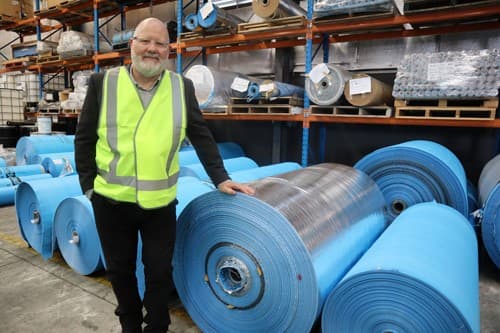 A South Australian insulation manufacturer has launched a new BCA-compliant fireproof wall wrap that mitigates the spread of fire between tenancies through external walls in high-rise buildings.
CeaseFire, a robust pliable building membrane by Ametalin, creates a fire barrier behind the façade of multi-storey residential and commercial buildings.
When appropriately installed, this helps to prevent fire from leap-frogging between tenancies by burning up the outside of the building while still allowing the structure to breathe, thereby preventing condensation damage.
High-rise fires are a serious concern. The Victorian Metropolitan Fire Brigade has recorded over 1,300 high-rise fires over the last 10 years.
"With our harsh climate, fire safety is critically important in Australia," says Ametalin CEO Stephen McIntyre.
"Australia should be the world leader in fire-safe construction. CeaseFire is the next step forward on that path, a technical breakthrough that will pave the way for stricter fire regulations and safer buildings world-wide, potentially saving lives."
The Building Code of Australia (BCA) mandates that building membranes used in the façade of multi-storey buildings meet the requirements for "non-combustible construction", which does not mean that all materials used must actually be non-combustible.
Rather, they must have a low fuel load and low flammability.
As far as Ametalin is aware, no wall wrap currently in use in Australia is a non-combustible material as defined by the BCA.
CeaseFire not only meets but greatly exceeds the current requirements of the BCA for non-combustible construction by providing a fire barrier.
Importantly, CeaseFire is also the first and only vapour permeable pliable building membrane in Australia that forms a continuous barrier to water, air and fire.
In most of Australia, it is recommended that wall wraps be vapour permeable to avoid condensation damage. In Western Sydney, Melbourne and other climates with cool winters, it is required by the BCA.
CeaseFire ticks all the boxes for installation as a weather and fire barrier in modern building facades. Ametalin, based in Salisbury North, is Australia's largest sarking and wall wrap manufacturer.
Ametalin
08 8285 6955
www.ametalin.com