FINAL ROUND FOR MURRAY IRRIGATION GRANTS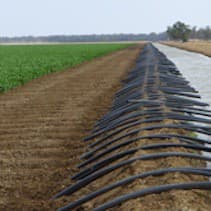 Seventy-seven River Murray-based irrigation projects have been offered a share of $38 million in funding under the fourth and final round of the Irrigation Industry Improvement Program (3IP).
If all projects accept their offers, it will mean a total of 259 projects will have received funding under the $240 million program since it first opened in 2014.
"The State Government stood up for South Australia and fought to secure the future of the River Murray, providing a Rolls-Royce solution when the Liberals suggested we should settle for a Mazda," said Minister for Agriculture, Food and Fisheries, Leon Bignell. 
"When it came down to it, we put South Australia's interests forward, uniting the whole of the state behind this idea and delivering on our promise to support the growth of strong and sustainable irrigation communities."
Round Four proposals include new solar energy and netting projects, as well as new winegrape plantings and uptake of new food manufacturing technology.
An estimated 550 new jobs will be created by the time the 3IP finishes in mid-2019, while the final round of projects means South Australia is on track to reach the program's 40 GL target for water recovery.
Workshops with successful applicants have been held in Murray Bridge to provide information on what happens next in regards to finalising contracts and beginning projects.
The 3IP forms part of the $265 million South Australian River Murray Sustainability (SARMS) Program, which is funded by the Australian Government and is being delivered by Primary Industries and Regions SA (PIRSA).
The competitive grants program was created to support the restoration of a healthy Murray-Darling Basin environment by aiming to recover 40 gigalitres (GL) of water access entitlements from participating irrigators. 
Australia's largest fresh produce business, The Costa Group, has been offered funding through their citrus business to make irrigation upgrades across three of their properties that will save almost half a billion litres of water for return to the River Murray environment.
Costa Group Chief Executive Officer Harry Debney said that "the SARMS Program has brought in significant improvements to the South Australian River Murray region."
Grapegrower David Zadow, based at Blanchetown, has been offered funding for a filtration and pump upgrade with a solar battery that will give them many years of low maintenance, efficient and refined vineyard operations.
"Reduced downtime will allow us to deliver a more consistent product by not being distracted by breakdowns or inefficient systems at the same time as increasing our profitability," David said.
Bill Efrosinis and Sandy Iosefellis, mixed horticulture producers, under the label Autumn Fruits, near Berri, intend to invest in new packaging technology for their processing and packaging business. The technology will allow them to protect produce integrity and increase the shelf life of their own and other producers' fresh produce.
This will help local producers to access emerging high value retail markets and reduce food loss in the supply chain.
Bill and Sandy said that "the project will ensure produce leaves the region at its highest value, returning economic benefit for producers, industry and the region."