Filling the gaps: swift support for industry
04-09-2013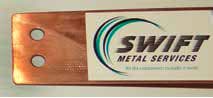 Shims are typically a thin strip of metal for driving into crevices, such as machine parts or flanges to compensate for irregularities or wear. Shims can also be inserted under bedplates or mounting pads in order to level equipment or machinery. Shims are typically used in order to support, adjust for better fit, or provide a level surface.
One the nation's leading metal processing companies, Swift Metal Services offer a broad assortment of shims for a wide variety of applications.
Swift offer shims and packers in stainless steel, brass, copper and mild steel.
Swift Shims can be profiled to suit specific design requirements and have locating holes included.
Swift Metal Services Pty Ltd
Ph: 02 6969 2333