FIBREGLASS STAIR NOSINGS OFFER THE BEST OF BOTH WORLDS
07-05-2018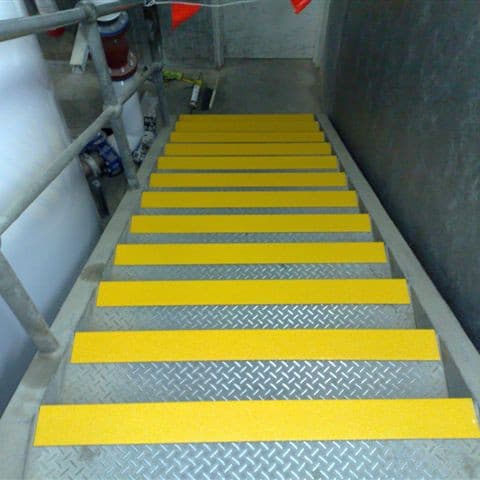 One of Floorsafe Australia's strategies has always been to give customers what they want, and in choosing stair nosings, on many occasions price has a major part to play in the decision.
The company's standard fibreglass nosing has been a very popular choice over the past two years due to the fact that it is half the price of standard aluminium nosing, saving of up to $20 a metre on a manufactured safety made metal tread nosing.
Although the standard fibreglass units offer cost savings and a no rust advantage they do not have the same quality and performance values compared with a metal-coated stair nosing. A finished fibreglass product with its anti-slip finish can look very uneven and rough. It has very limited chemical resistance and is only produced in either yellow or black.
But now Floorsafe has taken the advantages of both products and combined them into one competitively priced product.
The new Fibreglass Plus stair nosing has the same 4mm fibreglass base, and is produced in 3620mm lengths. Once moulded, the base is overlaid with two layers of chemical-resistant polyurethane coating. A 30# grade diamond aluminium oxide granule is also added giving the new product a superior uniform finish.
Colour choice is another advantage. Floorsafe holds stock of safety yellow, black, white or grey, but can produce any Australian standard colour on request.
According to Floorsafe's Philip Zagni: "The extra strength, improved chemical resistance, colour choice and its improved enhanced finish will combine to make this product very popular."
Floorsafe
1300 717 769
www.floorsafe.com.au