FIBREGLASS SCAFFOLD SOLVES WORKPLACE SAFETY ISSUES
06-07-2017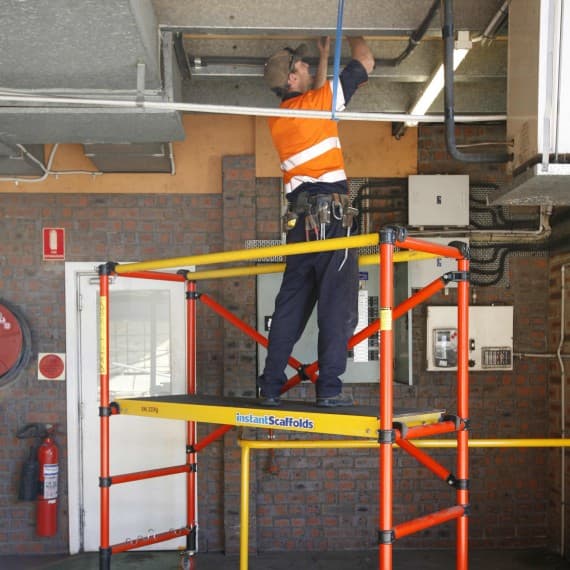 Introducing the Instant Fibreglass Scaffold, the ideal equipment for working in environments where there is any risk of exposure to live electrical conductors or chemical agents. The nonconductive and nonreactive fibreglass structure provides an inert, stable and lightweight scaffold that offers safe insulation from electrical power and a corrosion-resistant structure capable of handling exposure to chemical agents.
The Instant Fibreglass Scaffold improves workplace safety in many industries. It is suitable for safe use in oil refineries, power stations, food manufacture, railways, utilities, aviation, electrical engineering, chemical plants, pharmaceuticals, military applications and the gas industry. Many of these types of premises raise a variety of safety risks associated with metal scaffold towers that are neatly solved by the inherent features of fibreglass.
As fibreglass is nonconductive, it is safe to use around electrical systems and ideal for railway usage or by electrical engineers carrying out installations, repairs, inspections or maintenance.
Fibreglass is also nonsparking, avoiding fire risks around combustible materials like gas, chemicals, paint and even dust.
The scaffolding is corrosion-resistant, ensuring continuing stability and strength, even when in contact with fuels, oils, lacquers and most industrial site solvents.
In addition, nonoxidising fibreglass stays clean and residue-free with minimal maintenance, making it ideal for use around food preparation or clean environments like research labs and hospitals. It also makes the Instant Fibreglass Scaffold ideal for use in coastal or maritime applications with salty atmospheres.
Instant Access has been manufacturing premium scaffolding since 1968. It was the first company in Australia to offer aluminium mobile scaffolding and continues to develop cost-effective access solutions for the ANZ market while operating a quality system to AS/NZS ISO 9001:2008.
The company is committed to supplying and supporting products that meet or exceed Australia and New Zealand legislative standards providing efficient, responsive and professional solutions.
Instant Access
1300 10 20 80
www.instantaccess.com.au