FIBRE LASER PROVIDES A COMPETITIVE EDGE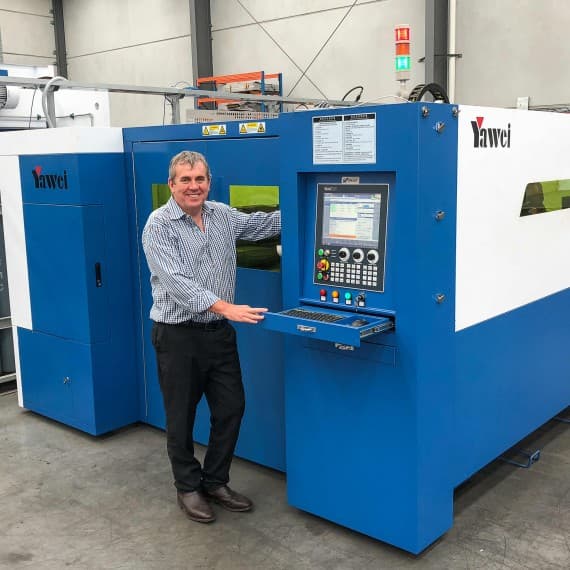 Jon Flynn says that the decision to buy a Yawei fibre laser from Applied Machinery was both a logical and easy one
The acquisition of a Yawei HLE fibre laser from Applied Machinery has enabled Wildcat Industries to improve its production processes and become more competitive.
Following many years working in the sheet metal industry, Jon Flynn founded Wildcat Industries around 10 years ago. Based in Dandenong, Victoria and now employing 20 people, the business has four distinct divisions: high tolerance sheet metal work, architectural facade work, the manufacture of high tech wood and gas flue systems and more recently Wildcat wood-fired pizza ovens.
While the architectural division services clients right across Australia, the sheet metal work is predominantly Melbourne based.
Flynn already had extensive experience of dealing with Applied Machinery, and reckons that he had virtually bought every single piece of equipment to date from the company.
He says: "The Applied Machinery people look after me as though they are part of my business; the service, support and warranty are very important for me and Applied excel in this area. So the decision to buy a Yawei fibre laser from Applied Machinery was both a logical and easy one."
And the decision has paid off.
"The Yawei has enabled us to redesign products to make them perform and look better and produce parts of a much higher quality. Plus of course, given the speed and accuracy of the fibre laser we are saving huge amounts of time; you can just do so much more with it. You don't get any burn marks or blemishes on the material either," Flynn adds.
"The Yawei has been an absolute game changer for me; I really can't stress that enough. It's allowed us to replace one of the turret punch presses and also replace the plasma. Crucially this enabled us to bring all our laser cutting in-house," he continues.
The Yawei HLE is constructed using high quality components, such as a 2kW IPG fibre laser source, a Swiss Raytools cutting head and a German Beckoff CNC control system plus a rigid, robust frame.
"The Yawei has also made me more competitive in the marketplace," adds Flynn. "There's no tooling setup for short runs, we can forecast more accurately and cut more out of a sheet resulting in further cost efficiencies. Plus we can now cut a wider choice of material including titanium and stainless steel."
The Yawei fibre laser has also given Jon Flynn the confidence to quote for work that he wouldn't have previously targeted, thereby expanding his business. One new customer picked up as a direct result of having the fibre laser is expected to provide a significant lift in work over the next 5 years.
"Quite simply the Yawei HLE has far exceeded my expectations," says Flynn. "It really is that good. Yes, there are cheaper models out there but none of those have the quality, robustness and longevity that I am looking for; many also don't meet Australian standards. Let's face it, you get what you pay for.
"The way things are going I can definitely see a need for a second fibre laser in the future," he concludes.
Applied Machinery
03 9706 8066
www.appliedmachinery.com.au