FIBRE LASER HITS THE MARK
30-10-2017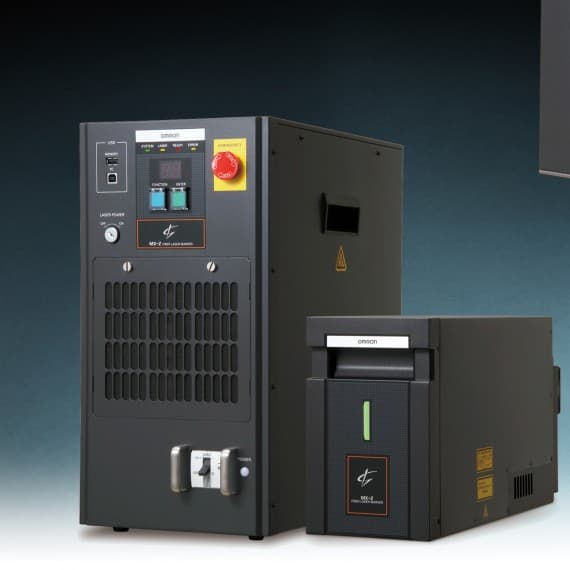 The MX-Z fibre laser marker from Omron is capable of high-precision deep or shallow engraving of metals and fine marking of plastics. Its high-speed operation makes it ideal for production line integration for marking of product traceability data.
The laser head has a double glass cover for stable operation even in dusty and wet environments, and comes with full IP65 certification. And on the safety side, the MX-Z has two built-in safety relay circuits in line with ISO 13849-1 (JIS-B9705-1) criteria.
The laser marker has two operating modes (standard and energy enhanced) that allow users to choose from fine detail or deep engraving depending on the application. The standard mode offers flexible pulse control of up to 1MHz (adjustable up to 20 pulses) for optimum high-speed marking. The EE mode is ideal for deep engraving of metal with intense energy processing and increased control of up to 30 pulses.
Flexible high-precision z-axis control enables marking on 3D shapes such as sloped, curved, conical or sphere-like surfaces, without any additional software requirement. And Omron's Galvano Dynamic Acceleration Control feature controls the speed according to the detail required, ensuring high-speed clear marking. All the marking data can be edited on the laser marker, with no need for additional software.
The MX-Z series can be operated stand alone using its direct finder link feature, which directly connects the image processing system to the laser marker. Alternatively, the marker can be connected to external devices, such as PLCs, using EtherNet/IP, serial, or digital I/O.
The data for each product marked are archived and can be configured through a traceability system that can log marking data, time, power check result, laser operating time etc.
Omron Electronics
1300 766 766
www.omron.com.au