Fiber laser helps manufacturer survive downturn
31-08-2010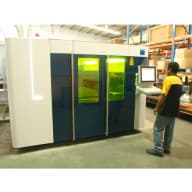 Established in 1995, TSA Metals is a well-known manufacturer of storage and office furniture.
Earlier this year they were looking for a new laser machine to replace an existing turret machine.
"The old turret was very slow, especially with one particular part process," said TSA Metals director Steve Roche.
After much research, TSA decided to buy a TRUMPF Fiber 5030 Laser from Headland Machinery.
"With the new laser, our processing time went from 89 hours down to 20 hours when machining the same part, said Roche.
"Waste was also completely eliminated and our overall productivity has improved by 300 per cent."
Roche said the decision to go Fiber was definitely the right one.
"It exactly suits our needs in terms of machining thin sheet metal, he said. "It has improved our production times and it has also opened up new markets for our business where we can now compete."
TSA Metals recently launched a new business Laser, Punch & Form, opening a new channel of opportunities.
"We, like most manufacturers have seen a big downturn of late, said Roche. "However, purchasing the machine has actually decreased the effects of the downturn by over 10 per cent, simply due to the diversification and increased speed of production that is now offered to us."
Roche said despite the tough economic conditions, TSA's customers continued to come back due to its innovative product designs and delivery times.
"We work on some large Government projects and you can't be late on any delivery for large jobs like that, he said. "We thrive on that kind of pressure and enjoy delivering more than what's expected of us."
Roche said TSA Metals chose the TRUMPF Fiber 5030 Laser mainly due to their time in the market.
"Other competitors we were looking at are newer players in the industry, whereas TRUMPF had already had Fiber Lasers in production in Germany for over eight years by the time we bought ours."
TSA offer a wide range of storage, filing, shelving, and desk systems from imported to locally made furniture.