FES a star attraction at Austech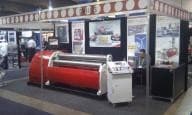 Innovative … the DAVI/FES display at Austech
The DAVI/FES stand was again a popular attraction at this year's Austech Exhibition.
Mr Mike Dye, managing director of Fabrication Equipment Supplies, says the exhibition was highly successful for the company with enquiries from dozens of interested visitors. Many visitors were keen to learn about the latest in automation and CEP (Control Efficiency and Productivity). 
Many visitors were keen to learn about the latest in automation and CEP (Control Efficiency and Productivity). 
"These are the key factors essential to be competitive in today's market to help combat competition from cheap imports," Mr Dye says.
"With the strong Australian dollar it has never been a better time to take advantage of the resultant lower prices and purchase top quality equipment as opposed to cheap low quality copies."
FES specializes in steel fabrication, with a focus on cutting, bonding, forming and rolling.
Since its establishment nearly 15 years ago it has built a solid reputation for outstanding customer service.
FES supplies press brakes, guillotines, laser and plasma profile cutters as well as plate rolling machines, band saws and punch and shears.
FES has been the exclusive Australian agent for high quality DAVI products for more than seven years. DAVI is the world's largest manufacturer of plate and angle roll and automatic rolling systems.
Its state-of-the-art engineered machines are manufactured in Italy and sold worldwide.
The company has become synonymous with high precision, exceptional productivity, efficiency and long-lasting value.
FES has supplied many of Australia's leading companies with the latest DAVI technology.
And by investing in DAVI Rolling Systems these companies have been able to increase their productivity, efficiency and profits (PEP). 
"Our aim is to increase control, efficiency and productivity – resulting in better profits," says Mr Dye.
"FES has direct links to the most sophisticated products to the most basic machines, covering all price ranges."
Industries now using DAVI Rolling Systems include shipping, mining, structural, civil, training education, specialist stainless steel and general rolling services.
DAVI are the most sold huge "giant rolls" for manufacturing heavy-duty pressure vessels, boilers, energy applications (oil and gas and nuclear), for thickness between 40-50mm up to 400mm and more.
For lighter application, high-tech DAVI rolls, CNC controlled, have set a new benchmark. DAVI is the world leader in Wind Towers and Off-Shore, thanks to its patented High Productivity Package that enables the towers and piles manufacturers to greatly increase productivity, while ensuring the highest quality standards.
CEP (Control Efficiency and Productivity) has become the key to DAVI's global success story.
Mr Dye has invited those interested in the DAVI range to call him personally on 0414 556 576 or email:
mikedye@bigpond.com
for an obligation free analysis of particular requirements.
Fabrication Equipment Supplies
Ph: 07 5478 3387 or 1300 556 576