FASTENER MANUFACTURING EQUIPMENT UNDER THE HAMMER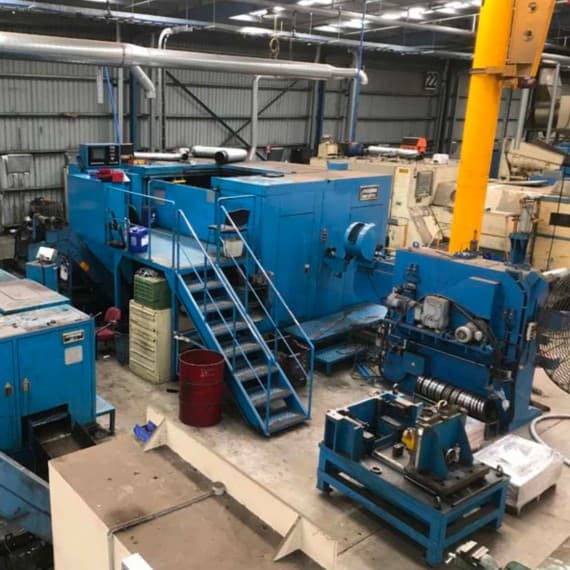 September will see the closure and sale of one of the iconic names of the industry with a two-day administrators' auction to sell off the assets of the Ajax Fasteners bolt and fastener manufacturing plant at Braeside, Victoria.
Until it ceased trading, Ajax Fasteners boasted the broadest cold forging capability of any fastener manufacturer in Australia, including large cold forging machines making fasteners from M8 to M33 diameter, and a battery of small cold heading machines turning out bolts and screws from M2.5 to M8.
All this machinery is included in the auction sale, together with wire drawers, thread formers, hot nut formers, tapping machines and finishing and packaging plant. Other lots include the contents of the workshop and toolroom, warehouse racking, forklifts and vehicles. There is also a large quantity of coil steel raw material to be sold in multiple lots.
The auction will take place on the 10th and 11th September 2019, conducted by Lockwood & Co and Hilco Global Australasia at the plant, with a simultaneous webcast auction on the first day.
All the major plant, including the bolt-formers, cold headers, wire drawers, thread rollers, hot nut formers and tapping machines will be auctioned on the first day with a simultaneous webcast commencing at 11am AEST on the 10th September.
According to Luke Johnston, General Manager Victoria for Hilco Global Australasia, there has been considerable interest in the major machinery from the USA and Canada in addition to India and SE Asian countries.
The plant is open for inspection of all lots on 9th September at 41-45 Mills Road, Braeside, Victoria.
The full auction catalogue is available at https://www.industrialbid.com/auctions/4558-ajax-fasteners-bolt-fastener-manufacturing-plant-closure-auction, where you can also register and bid for the webcast auction.