FAST WAY TO ENCLOSE A MEZZANINE WORK AREA
15-10-2014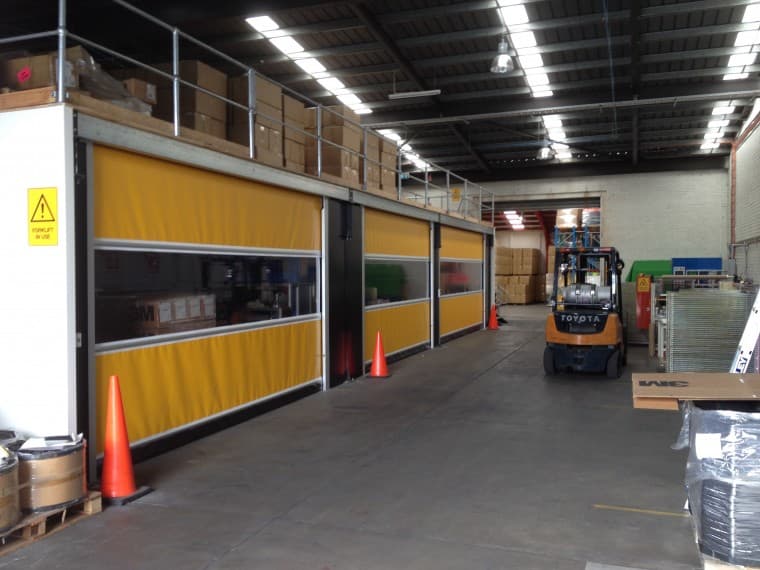 DMF International supplied and installed some specialised high-speed roll doors in an unusual application under a mezzanine flooring structure.
This followed a request from a client, KWN Trading, to provide a sealing solution for the area.
KWN Trading produces specialty safety equipment and fast print safety signs.
The design need was to create a sealed working area under the mezzanine floor to create an area to house specialised printing equipment.
Access was critical to be maintained into the work area. At the same time it was vital to minimise dust entry to protect the environment.
DMF designed and modified, then installed three units of Series RL3000 high-speed roll doors.
The drive roller system was housed behind the front structural purlin, resulting in a very neat finished door system.
The open spaces remaining on each side of the doors were enclosed using specially fabricated and powdercoated infills.
The rapid roll doors were each about 5m in width, and are activated by pushbuttons, and come with full safety sensors. This width will allow movement of large products in and out of the printing area.
David Kuo, Operations Manager, said: "The doors were a great solution and I am very happy with the result, and final appearance."
DMF custom manufactures these specialised high-speed doors to size in Sydney. They come with many options to suit demanding applications.
Contact DMF for a site assessment.
DMF International
1800 281 170
www.dmf.com.au