FAST CHARGERS TO ATTRACT EV DRIVERS TO WINE COUNTRY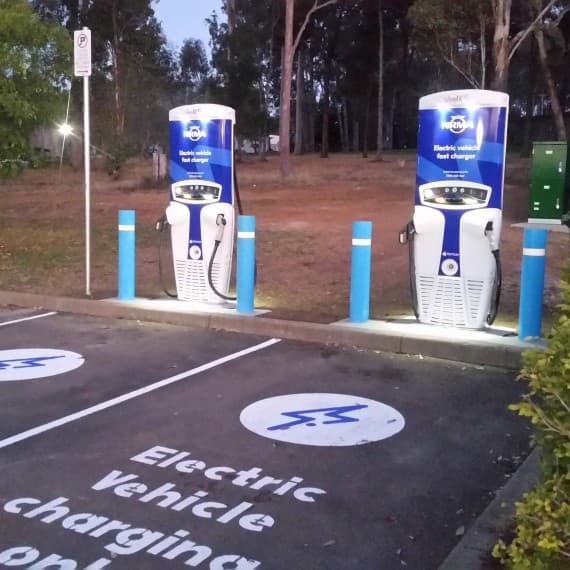 Australia's electric vehicle infrastructure continues to expand with the opening of the nation's 50th publicly accessible 50kW DC fast charging location at the Hunter Valley Gardens in NSW. The NRMA has installed two of Tritium's Australian-made Veefil-RT 50kW DC fast chargers as part of the rollout of its $10 million electric vehicle fast charging network.
According to Chris Hewitt, Brisbane-based Tritium's Head of Sales for Australia, "It's been proven time and time again across the globe that when the charging infrastructure is in place for electric vehicles, you'll see an uptick in the number of EVs on the road and in showrooms. We now have a significant number of publicly available chargers across the country with more to come."
"Tritium's success is a timely reminder that we have the smarts and skilled labour force here in Australia to be an advanced manufacturing powerhouse," said Senator Tim Storer, Chair of the Select Committee on Electric Vehicles.
"Imagine what they could achieve if we had a national strategy to support the development of the EV industry here in Australia. I hope my inquiry will prompt the Federal Government to be more proactive, so that companies like Tritium can more fully realise the benefits on the electric vehicle transition."
The NRMA's electric vehicle network is scheduled to be completed in 2019 and aims to install approximately 40 DC fast charging sites across New South Wales and the ACT.
Tritium's Veefil-RT chargers accommodate most makes and models of EVs available in Australia, allowing users to charge their vehicles to 80 per cent within 30 minutes on average.