Fast and efficient thread cutting
31-08-2010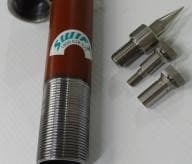 Swift Metal Services has expanded its thread cutting and thread forming capabilities. 
Thread forming and thread cutting is a fast and efficient process to cut threads onto most types of hollow bar and solid bar.
Thread rolling and thread forming processes are often used for high-speed production runs and repetition manufacturing applications, in which Swift Metal has many years experience.
Thread forming and thread rolling processes have minimal or zero shavings as virtually no material is actually removed. This in turn means less material is required because the blank size starts smaller than a blank required for cut threads. 
Swift Metal Services provides screw profiling, thread cutting and thread forming services for a wide variety of sizes, pitches and diameters, using ferrous and non-ferrous bar and hollow bar. Materials include stainless steel, aluminium, brass, copper and carbon steels. 
Contact Swift Metal Services for a quote on their cost-effective thread cutting.
Swift Metal Services Pty Ltd
Ph: 1800 626 525