FARO QUANTUM ARMS REACH INTO THE FUTURE
07-05-2018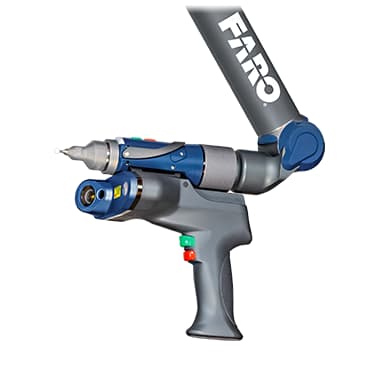 FARO has introduced the new Faro QuantumM FaroArm, rounding out the next generation FaroArm portfolio led by the QuantumS FaroArm.
The QuantumM includes the same high performance functionality as its portfolio companion with an accuracy specification that makes it an exceptional mid-market alternative for applications that do not require the high performance specifications of the QuantumS.
 The QuantumM is certified to ISO 10360 -12:2016, the most rigorous international measurement quality standard in existence and tests to the International Electrical Commission (IEC 60068-2) standards for shock, vibration and temperature stress relief.
The arm also includes the FAROBlu Laser Line Probe HD, the next generation of blue line laser technology that enables five times faster scanning than the previous generation, including complex surfaces comprised of dark and reflective materials.
The QuantumM is easy to maneuver as it is 20% lighter than its predecessors, and immediately ready to use as it requires no warm up time. This ensures better productivity in the inspection, design and manufacturing process by enabling operators to work longer and more comfortably.
 The arm enables continuous operation anywhere on the factory floor with industrial grade wireless connectivity and dual, hot swappable batteries to support continuous operation anywhere on the factory floor without the need for external power.
"FARO is committed to leading the industry into the next generation as the quality and performance beacon," said Joseph Arezone, Faro Chief Commercial Officer.
"As such, we are directing our efforts to assuring that we deliver products that adhere to the most rigorous global quality standards, including ISO 10360 -12:2016 and IEC 60068-2. As standard practice, Arm users going forward should be willing to accept only those products that are subjected to the broadest, most objective and the most challenging quality standards available."
FARO
www.faro.com