FANS IN ACTION: COMFORTABLE WORKERS MAKE THE BEST WORKERS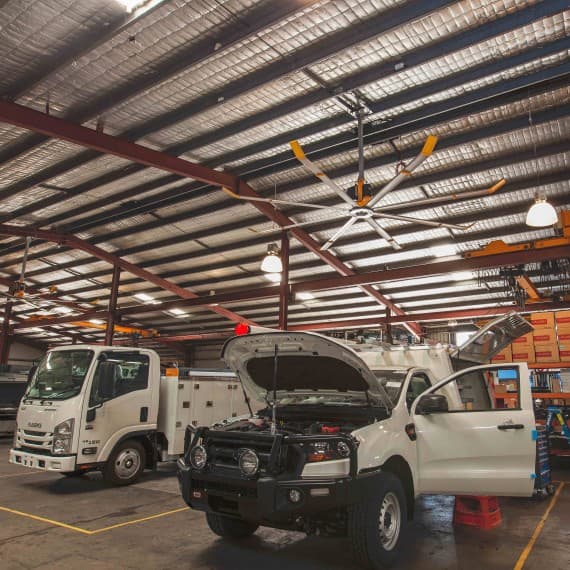 With a combination of its industry-leading fans and energy-efficient lighting products, Big Ass is improving working conditions in Australia and around the globe.
Blazing Queensland temperatures and humidity were creating uncomfortable working conditions at XL Service Bodies, an industry-leading manufacturer of service truck bodies. Inefficient floor fans were only complicating matters with dust and debris, as well as causing disruption.
"We're in an industrial environment, so adding more noise is not what you want. When you turned our old fans on, they were a hard start and made a lot of noise," says owner and Managing Director, JP Shelburn. The floor fans could only target small, specific areas too, so summer heat resulted in employees fighting for the fans.
After seeing Big Ass Fans in action and researching proven benefits, Shelburn knew he'd found the comfort solution for his 12,000m2 factory. Three Powerfoil X3.0 fans were installed for year-round airflow, with the fan speed determined by the prevailing weather conditions.
Once Shelburn saw the immediate improvement the fans made, he proceeded to install Big Ass Light LEDs over the welding bays and quality assurance line. "The lights are fantastic! You could buy a cheap LED made in China that doesn't have any support, or backup, or quality standard. Or, you pay a little more for Big Ass Lights and get what you really want."
"Big Ass Fans provide great value and a real return on investment. I've done the maths - if you're in business for the long run, Big Ass Fans and Lights are the right decision," says Shelburn.
Also in Queensland, Kip Kippen owner of Bissell's Paint & Panel shop recognised the need for serious air movement in his new purpose-built facility. He wanted to make sure the new auto-body repair centre was safe and comfortable, even during periods of soaring temperatures.
In his previous facility, the use of noisy, directional floor fans had caused problems of blowing dust everywhere, in addition to ineffective cooling.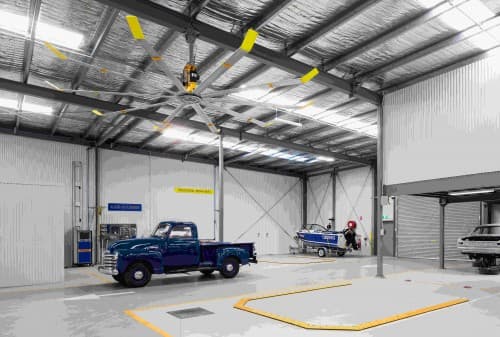 Feeling was believing for Kippen. He decided Big Ass Fans were the best solution after seeing a large-diameter Big Ass Fan in person and feeling the airflow for himself. "The total air movement from a Big Ass Fan was way better than other fans I'd seen," says Kip. "Normal fans create directional movement, whereas the Big Ass Fan provided massive air movement that was making the entire shop feel much cooler." He also liked how effective the fan was while running at low speed.
With the installation of three Big Ass Fans of his own, Kip Kippen rests easy, knowing his workers are safe and more productive. "Comfortable workers make the best workers, as they aren't constantly stressing about the heat or the annoying paint fumes," he says. "We like air circulation at all times, so we keep the fans on year round and don't ever get the buildup of fumes that most auto shops have."
Kippen also incorporated 13 High Bay Big Ass Light fixtures into his facility. "They had the best quality, with great output and low energy use," he says. "The LEDs guarantee we are providing top quality service, as we can notice any little defect or issue needing rectification."
Kip Kippen is thrilled to now have a cooler, brighter and more efficient shop. "Both the fans and lights do what they're meant to," he says. "They're a definite cure to the two main problems most industrial facilities face – air movement and lighting."
The Big Ass phenomenon isn't just confined to Australia. BlueScope Buildings is the world's leading supplier of pre-engineered metal buildings, with locations on four continents.
At its 26,000m2 plant in Laurinburg, North Carolina, the company fabricates long-bay trusses and other parts from hot-rolled steel. In summer, workers in Building 4 coped with stifling conditions, and wall fans provided little relief. The oppressive atmosphere was further compounded by outdated metal-halide lights in other parts of the facility that barely kept the bays lit and when they did work, generated even more heat.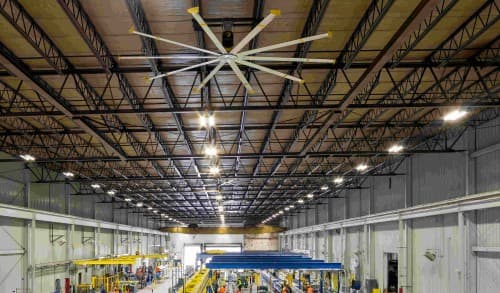 Big Ass Fans was brought in both to relieve the stagnant air and solve the lighting problem. Operating under a tight schedule, the company manoeuvred in a bridge crane to install four 5.5m Powerfoil X2.0 fans to better circulate the air. Plant Manager David Volk also ordered Big Ass Light LED fixtures for three bays at the site.
The lights were in place and custom programmed within weeks. Now workers are more comfortable because of the silent fans, the new LEDs are drawing rave reviews from employees and visitors, and Volk is seeing a significant reduction in his lighting bills.
"I'd absolutely recommend Big Ass products," says David Volk. "It's all been an incredibly positive experience. We've been real happy."
Big Ass Fans
1300 244 277
bigassfans.com.au