Fanmaster takes hot air out of business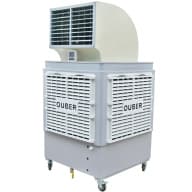 A range of cooling products that define the landscape of Australian industry.
These should be paramount in the minds of not only the businesses employing workers in factories and warehouses, but the entire industrial and agricultural sector.
With the bottom dollar becoming tighter for most businesses, there needs to be a way of keeping productivity high, while decreasing power bills.
A cool workplace not only lifts employee morale, it improves productivity and safety.
Fanmaster, a leader in workplace cooling systems, can provide the perfect solution.
Fanmaster's range of NewTech Coolers are not only keeping warehouses and factories across Australia cool, but they provide an energy saving alternative to power hungry air conditioners.
With the popularity of its product range showing exponential growth, Fanmaster is constantly on the lookout for dedicated installers and distributors across the country to service its growing market.
As one of Fanmaster's distributors and installers, not only will you be helping your local economy thrive, but also you will be joining a team with a common goal of keeping the cogs of Industry turning – even in the toughest weather conditions.
Contact Fanmaster if you would like to know more about joining their team or if you would like to learn how you can significantly reduce your power bills and increase productivity.
Installers with experience in air solutions who are willing to negotiate a sale are especially welcome.