FAMILY-OWNED OPERATION MARKS HALF CENTURY – AND COUNTING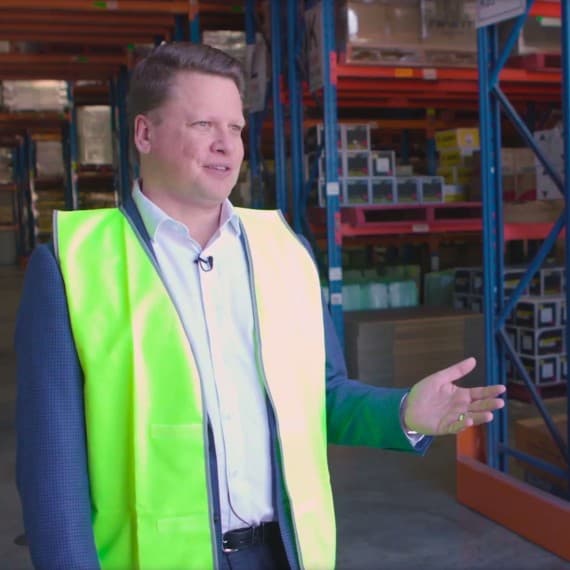 Winson Group CEO Jack Winson
Leading supplier and manufacturer of packaging and industrial supplies, Signet is celebrating its 50th anniversary this year. Still proudly Australian-owned and operated by the Winson family, Signet is now one of the top 100 private companies in Queensland, with a staff approaching 300 and a full national reach through a distribution network covering Sydney, Melbourne, Brisbane, Perth, Adelaide and Townsville.
Founded in 1968 by John Winson as Ace Marking Equipment, the company was renamed Signet in 1989 when it expanded its product range into packaging supplies. "We were on a family holiday down to Byron Bay and we came up with the name Signet," says Winson Group CEO Jack Winson. "Signet comes from the signet ring. That's what people used to make their mark with. Our roots were in ink and marking, and that's why we chose the name Signet."
Over the years, Signet has evolved to become both an Australian manufacturer of products, as well as a supplier. The company has national contracts with some of Australia's largest logistics companies, including Toll, Ceva, TNT and DB Schenker, and many of Australia's major retailers, such as Woolworths and Metcash.
In addition to distributing leading industrial brands, such as 3M, tesa and uvex, the company also sells an exclusive range of Signet's Own products and manufactures industrial and HAACP accredited stretch films and plastics, marking paints, inks and aerosols, labels and signs in Australia.
Signet credits a lot of its success to having a customer centric philosophy, and the company has received numerous awards from Customer Service Institute of Australia. This philosophy has led to the odd game changer over the years. For example, in 1993 the company's first ever buyers guide was the first comprehensive product catalogue in the industry to include pricing for every product.
Signet has long been recognised for the value it places on team members throughout the organisation, and the significant contributions they make towards building trusted relationships with clients. "At the end of the day, it's about growth, opportunity and security—for everybody who works with us," says Sandra Winson, Sales and Marketing Operations, Corporate Marketing.
As a long-term investment in up-and-coming talent, the company offers a two-year Signet Graduate Programme to give university graduates an opportunity for personal and professional development in a thriving business environment.
Looking to the future, Signet will continue to support and encourage its team to form long-term, outstanding relationships with its clients and help Australian businesses better compete in the wider marketplace.
Signet
13 74 46
www.signet.net.au