FAMILY MAN STEPS UP TO NEW WA HYDRAULICS FRANCHISE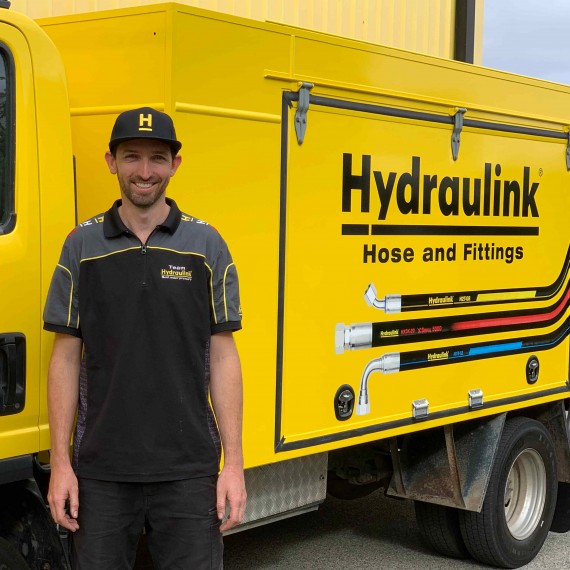 A young family man who believes in outstanding service with strong professional backing has taken the next step to securing his family's future by taking on a full franchise in Perth of the national Hydraulink hydraulic hose and fittings group.
Matt Palmer, who now heads the new Hydraulink North Metro based in Perth's Northern suburbs, developed his love of hydraulics engineering by working as a Hydraulink Service Technician in New Zealand and Australia. In recent years, he has built up a strong following among clients in Perth industries including roads, rail, marine, mining, quarrying, waste management and infrastructure.
"I have always loved working in Hydraulics," says Palmer, who has been in the industry for the last 10 years and moved to Hydraulink to gain top-level ongoing service training in an organisation with a can-do ethos and a strong focus on extending and rewarding competence in its customer service.
"The idea of becoming a field service technician with Hydraulink originally appealed to me because of the variety of work we get to do day-to-day. The opportunity to advance and really get out what you put in is a great incentive also, as it keeps me driven and focused," he adds.
The new franchise will cover Perth Metro from North of the Swan River, including all factories, quarries, waste plants, infrastructure and mining services plants located there.
"Hydraulink have backed me all the way, because they focus you on the needs of the customers in the area in which you operate, then give you the tools, training and technology to do the job.
"It drives you to do better for your customer, your community and yourself, which is very rewarding," says Palmer, whose community service with Hydraulink has included being loaned to Hydraulink New Zealand to help with rebuilding in the Kaikoura district after the earthquakes.
A major incentive in expanding through his new franchise operation was the ability to contribute to his local community in North Metro.
"I have always wanted to own my own business, but also loved working for Hydraulink, so becoming a franchisee and still having Hydraulink's support felt right for myself and my family," says Palmer, who is married with two boys.
"When I first approached the subject, my wife and I decided to sit down together and talk about the pros and cons of beginning a franchise. We just saw a great opportunity and so much potential for our family, everything Hydraulink offered ticked all the right boxes for us."
Hydraulink WA State Manager, Andrew Lever, says customers will welcome Palmer's franchise because he has built up a following as a professional who appreciates the needs of WA industry – including prompt and thorough service to optimise reliability and expedite maintenance and repairs, with all work performed to the same uniformly high standards over multiple sites.
"As someone with strong practical experience in WA industry, he is strongly aware of the mandatory safety, compliance and traceability performance required in world-class businesses," he said. "It is also very reassuring to customers that the Hydraulink people serving their needs are already familiar with the specialised requirements of their machinery and worksites. This is such a time saver-which translates into high efficiency-and is also a great asset to high and uniform safety and compliance practices over many sites."
Hydraulink
1300 36 37 34
www.hydraulink.com.au