Published 19-11-2019
| Article appears in February 2020 Issue
FAMILY BUSINESS FINDS BENEFITS FROM SINGLE MACHINERY SUPPLIER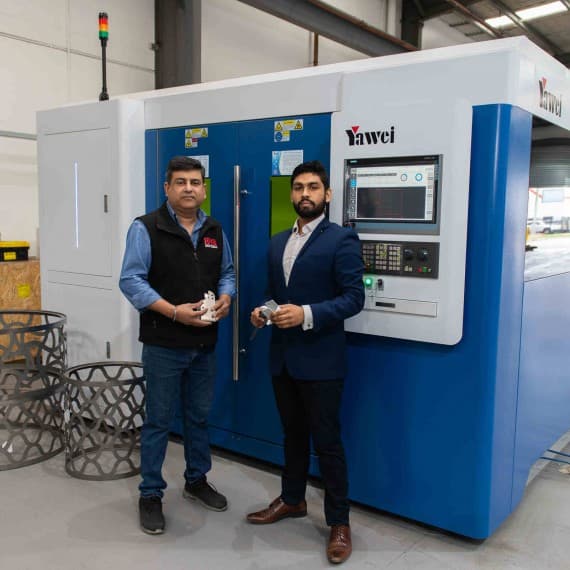 Kamal Singh (l) and Amal Singh
KNS Metals is one of Victoria's fastest growing family owned and operated sheet-metal companies. The company was founded in 2014 by Kamal Singh, who had been working in the sheet-metal industry for over 30 years, together with his wife and two sons. Eldest son Amal is now General Manager of the company.
In 2014 Kamal Singh spotted an opportunity in the marketplace and with extensive experience believed that it was the right time to go it alone. The business has grown rapidly over the past several years and it now operates with around 10-15 staff.
KNS Metals specialises in custom programming and design fabrication for both commercial and residential customers. Commercial is the backbone of the company, which provides 95% of the business, while residential makes up the remainder. Their other services include CNC turret punching, laser cutting, pressbrake bending and welding. KNS operates Australia-wide but most of the clients with which it deals directly are based in Victoria.
Kamal and Amal believe that their business has been successful due to their knowledge of the industry and outstanding customer service. While working in the business, Amal has also been completing his electrical engineering degree. The knowledge he has gained from this has been beneficial in enhancing the company's overall expertise.
"Our past experience as well as our critical and logical thinking helped a lot; and with this knowledge we can give customers great lead times and great quality products," says Kamal.
Most of the company's work comes through word-of-mouth. As such KNS Metals has never had much need to advertise, however the company is now expanding into social media.
Kamal first encountered Applied Machinery when he purchased an Amada AE-2510 turret punch. When the company required another new machine, Applied Machinery was the first port of call. "We had dealt with Applied previously so it was only natural for us to do business with them again," Kamal explains. "We were looking for the right machine and after discussion with Applied found that the Yawei pressbrake they offered was just what we were after."
Applied Machinery helped KNS Metals to set up the machine when it was delivered and this vital help impressed the company. "When we moved to our new factory, Applied came in after-hours and helped us set up over just one weekend," says Amal. "We packed-up on Friday and we were back working on Monday, that's how much of a help they were," Kamal explains.
Furthermore, the subsequent service and backup KNS received from Applied has cemented the relationship between the two companies. "We have a great working relationship with Applied and we are certain that will continue into the future," says Amal.
The new pressbrake has had a big impact on the company. "We are very pleased with how the machine's gone so far," Kamal says. "We will likely get a second one as we anticipate further growth in part thanks to the effect the pressbrake has had," he adds.
KNS had previously outsourcing a number of jobs due to a limitation on laser-cutting resources. However, it soon became apparent that it needed its own in-house laser-cutter that would be able to perform high-quality precision cuts.
KNS went to Applied again and after reviewing Yawei's extensive range of fibre lasers purchased an HLF-15303kW model - Amal and Kamal were particularly impressed with the machine's quality components, such as the Siemens controller. Importantly, this purchase allowed many of those previously outsourced jobs to come back in-house and massively expanded the company's cutting capabilities.
The Yawei fibre laser has a number of clear benefits: "We have found that the fibre laser is consistent and the speed and accuracy of cutting is brilliant," says Amal. The advantages of the machine have already had a direct impact on the service provided by KNS. "Our lead times have greatly improved as a result of having the machine," says Kamal. "We feel that we have taken back control of certain elements of our business," he adds.
Staff have also found the machine easy to use: "We've had the machine for 3-4 months now and our staff are very happy with its ease of use and the way in which it operates," says Amal.
The company is also reassured that Applied is always on hand to assist. "Occasionally, when we require additional assistance and technical guidance with the fibre laser, Applied has been available to help us right away; we are grateful for that support," he adds.
"Laser cutting has become a big part of our business in recent times so the machine was a vital purchase. We are already booked out for the next 6 months because of the work we are now able to perform with the Yawei," Kamal explains.
Much like the pressbrake, the success of the fibre laser has also meant that a second machine is likely to come at some point in the future.
Amal and Kamal would like to keep on growing and expanding the company's customer base. "We are very happy with our growth over the past few years and in the short-term we will probably purchase another Yawei guillotine and turret punch press," says Kamal.
Their growth and success in such a short time has meant KNS Metals will probably have to upscale yet again: "We will probably move to larger premises because we realise our current factory is not as big as what we wanted!" they conclude.
Applied Machinery
03 9706 8066
www.appliedmachinery.com.au