FACTORY TOUR OF EUROPE GIVES DISTRIBUTORS GLOBAL INSIGHTS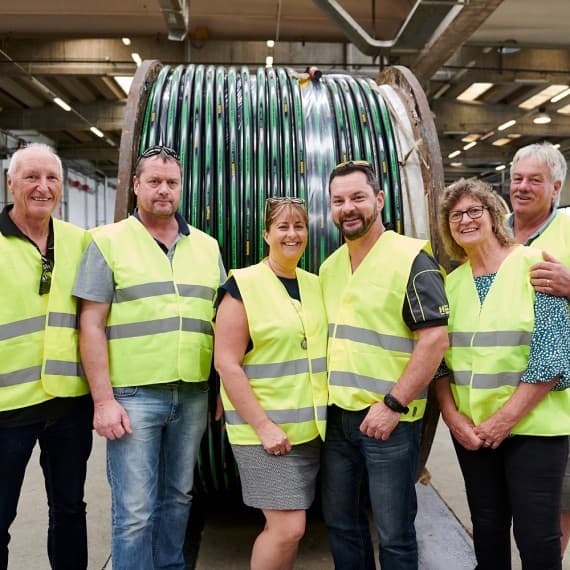 Lee Short, Hydraulink (far left) with tour members: "our distributors enthusiastically took the initiative to share this opportunity"
More than 40 Australasian hydraulic service specialists have taken part in a factory tour organised by hydraulics specialist Hydraulink to view the global quality standards and new technology of some of the world's leading manufacturers and innovators producing products for the hydraulic engineering market sector.
Hydraulink principals Lee Short and Noel Davies, New Zealand CEO Robin Simpson and Australian Managing Director Denis Matulin led the Hydraulink Partner Factory Tour to Europe to gain insights into the top quality technologies of its premium suppliers, including advances in areas such as couplings, lubricants, diesel hoses and fluid power hose fittings.
The educational tour – with 44 participants, including 16 distributors – was one of the biggest international educational events organised by Hydraulink, which supplies hoses, fittings, adaptors and accessories to more than 400 hose service points throughout Australasia, supported by mobile units to provide 24/7 service from a single contact point whenever they are needed to optimise uptime and ensure the smooth flow of business.
Hydraulink itself is continuing to invest in strong inventory of hoses, fittings, adaptors and accessories from premium suppliers such as those visited over the eight days of the tour, to ensure thousands of customers throughout Asia-Pacific are not held up by a global shortage of hydraulic hose manufacturing capacity.
"We are proud to say that our distributors enthusiastically took the initiative to share this opportunity to gain unique insight into technologies of benefit to their customers in diverse industries," the Hydraulink management team said after the tour. "It speaks volumes for their can-do attitude and dedication to leading their industry that this diverse party was keenly invested in expanding their knowledge in a way that will benefit their customers throughout Australia and New Zealand for many years to come."
The tour included a visit to an innovative manufacturer that has produced more than 500 million fasteners and registered more than 80 patents, and that works closely with customers to develop new and innovative products.
Hydraulink
1300 36 37 34
www.hydraulink.com.au