Eye protection with hands-free voice communication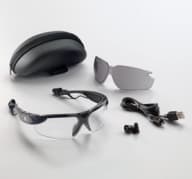 Honeywell Safety Products has released a range of Honeywell ICOM Stereo Bluetooth eyewear.
The new range provides an all-in-one solution, combining maximum impact protection with hands-free voice communication.
The Honeywell ICOM enables workers in remote or noisy environments to focus on the task at hand while being protected and in contact with their teams.
It is the first time Bluetooth-enabled eyewear is available for industrial applications.
Honeywell ICOM Stereo Bluetooth eyewear features a wrap-around lens design for maximum versatility and meets the AS/NZS 1337.1 standard for medium impact protection. It comes with anti-fog lenses in both clear and gray for a variety of applications.
An economical lens replacement system extends the product's lifetime value.
At only 52g, the dual-purpose eyewear offers lightweight comfort.
And users enjoy crystal-clear, acoustically isolated, in-ear voice communication. This allows communication with cell phones, smartphones and any other Bluetooth-enabled voice communication product.
Dual-microphone technology reduces ambient noise pick-up, while a high-performance balanced armature driver delivers superior stereo sound.
Honeywell ICOM provides six hours of continuous talk and about seven days of standby service.
Its lithium-polymer rechargeable battery lasts up to 12 months. Water resistant, the product is FCC and Bluetooth SIG certified.