Published 01-06-2021
| Article appears in June 2021 Issue
With an eye to the future, Packserv to unpack new products
Packserv founder Nathan Wardell
In response to customer demand, Packserv, Australia's leading packaging machinery and technical services provider, has invested heavily in manufacturing infrastructure to drastically cut customers' waiting times for new machinery.
The company says that while it has always had a reputation for customer service, it is now operating at a whole new level. Clients are able to have in place the equipment they need in the time frame necessary to meet their needs. What used to be 3-6 months is in some cases now the same day.
Packserv Managing Director Nathan Wardell is proud of his company's local manufacturing capability, and of building Packserv's new engineering shop, which houses CAD and CNC Technology.
"The speed at which Packserv can now build new products, by embracing new techniques and materials, means that we can not only maintain our leading position here in Australia, but make our machinery available to clients further afield."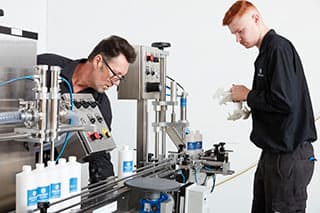 For some 14 years, Packserv has been heavily involved in supporting and encouraging Australian Manufacturing. Its client base extends to every corner of Australia and its categories of products.
The company recently revealed plans to open a Brisbane office, which will increase service levels throughout Queensland. Mr Wardell explained:
"The launch of a permanent presence in Queensland reflects increasing demand and the need for Packserv to respond more efficiently to serve our Queensland customers, who previously had to rely on cover from our Sydney office."
Mr Wardell also hinted at planned development of the technology behind the machines that Packserv manufactures. "There will be vastly superior products released during the course of this year. We have a very talented team of engineers working closely with two local universities dedicated to fine-tuning this next generation technology," he said.
Packserv now manufactures wholly 'Australian Made' high quality packaging machines. The company was founded by Mr Wardell 14 years ago and has established a niche position in providing packaging equipment for rental to the food and agri-business, pharmaceuticals, cosmetics, industrial and automotive markets.
With a vast fleet available for hire, Packserv's move into manufacturing has been a natural evolution.
Several years of research and development has been invested in each machine to incorporate the very latest Australian manufacturing techniques and materials. The result is a suite of machines that will enhance every stage of the packaging process.
Packserv's range of machines includes those for volumetric filling, capping and container handling functions, including conveyors' in-feed and out-feed tables.
Operating Australia wide, Packserv also specialises in providing rentals for on-demand packaging equipment for filling, capping, labelling, printing, coding, and induction sealing including the full suite of technical support required to run a manufacturing facility. 
1300 377 512 – packserv.com.au