Published 10-10-2019
| Article appears in October 2019 Issue
EXTRA LONG LATHE EXPANDS JOBBING SHOP CAPABILITIES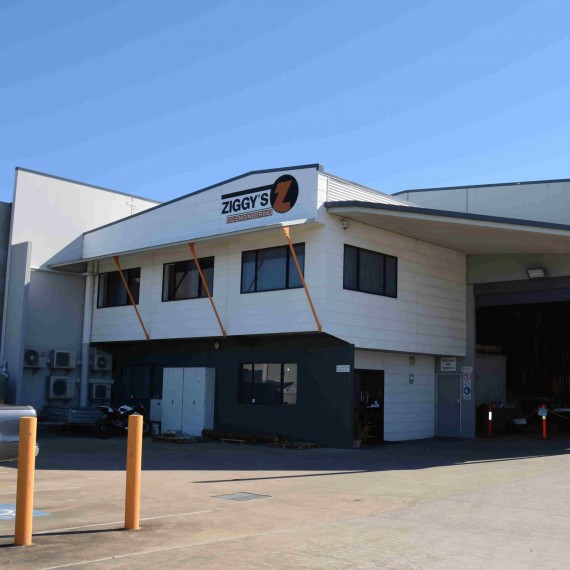 When Sigbert (Ziggy) Butschle says that his company will take on any job, it is a fair comment on the capabilities of Ziggy's CQ Engineering, which has become one of the best-equipped jobbing shops in Queensland.
Operating from a purpose-built 1200m2 workshop in the sugar city of Mackay, Ziggy's Engineering serves the mining, manufacturing, transport, construction, engineering and agricultural industries, and specialises in the machining and repair of one-off parts, small to long production runs and in the development of prototypes.
The company was founded in 1999 when Butschle was running a workshop for a belt-splicing company. He reasoned that his services and skills were in considerable demand in the area, so he struck out on his own and Ziggy's CQ Engineering was born, operating initially from premises he describes as "a shoebox" with just two machines.
"In the beginning," says Butschle, "big companies were coming to me with little jobs. And then the jobs started getting bigger and bigger, so I had to expand."
That expansion was a gradual process, moving from the aforementioned shoebox to a 250m2 workshop and then next door to a 650m2 workshop that Butschle remembers fondly as having its own crane.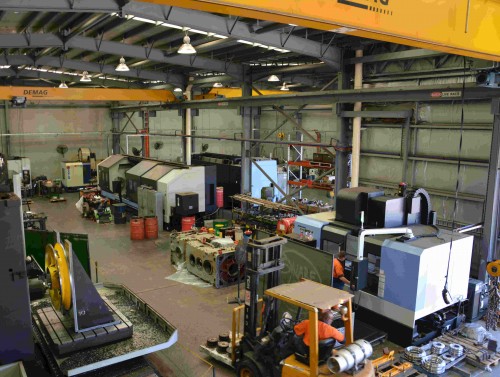 Ziggy's moved to its current purpose-built premises in 2012, and that move gave Butschle the space to expand the company's capabilities with a succession of new CNC machinery.
With the Central Queensland mining industry very much in the ascendency during the 2000s, the company found increasing levels of business coming from that sector at a time when the sugar trade was winding down in the area.
That mining boom saw Ziggy's not only increase the amount of repair work running through its doors, but also significant quantities of manufacturing, such as components for roof supports used in the coal mines of the Bowen Basin.
And while the manufacturing work does continue, Butschle is fully aware of the competition.
"Were up against a fair bit of competition. But we can compete," he insists, citing his company's ability to work to both tight deadlines and tight tolerances. "It's good to keep it local," he concludes.
The company has assembled an impressive array of CNC machinery over the intervening period from a variety of manufacturers. But in recent years it is the Korean-made Doosan brand that has accounted for the majority of acquisitions, all sourced from Hare & Forbes Machineryhouse.
Ziggy's association with Doosan began in 2007, with the purchase of two second-hand turning centres – a Puma 240M and a Lynx 210L – both of which are still in productive use, each benefitting from an annual service carried out by Hare & Forbes' Doosan technicians.
Indeed, Butschle has been so impressed with the performance and the reliability of those two second-hand purchases that ten years on in 2017 he returned to Hare & Forbes for a brand new Doosan machine, this time a larger Puma 700XL CNC lathe.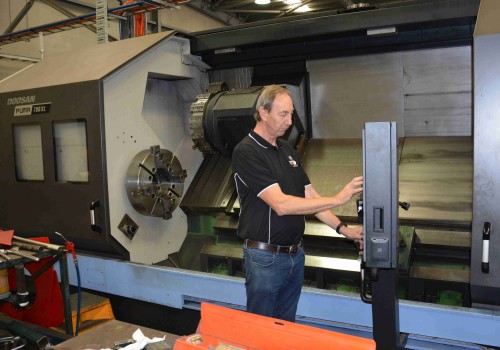 Ziggy Butschle programs the Puma 700XL
But the story doesn't end there. 2019 has seen two new arrivals in the Ziggy's workshop. The first was a Doosan Mynx 7500/50 machining centre to support the increase in manufacturing work.
The second new arrival this year is something of a "favourite child" for Ziggy Butschle. He had seen the newly designed Doosan Puma 5100 Series of horizontal turning centres and was impressed with their high-power heavy-duty cutting capabilities, but was concerned about their size.
In standard form, the Puma 5100LYB with live tooling has a maximum turning length of 2 metres. "But most of the shafts we are asked to work on are between 2 and 3 metres long," he says.
Butschle made this point to Doosan and Hare & Forbes, and this led to the development of the Puma 5100XLYB – a special extra-long version with live tooling capable of working on shafts up to 3 metres long.
And the first one of these machines ever made by Doosan now has pride of place at Ziggy's Engineering, sitting alongside the Puma 700XL, which is capable of handling shafts up to 5 metres.
Support is of course essential, and Butschle acknowledges the advantage of having Hare & Forbes' service team based in Queensland. And while Brisbane is a 90 minute flight away, it does mean that problems can be solved a lot more quickly than might be the case with less local support.
With the five Doosan machines performing well in the workshop, and an engineering staff of ten, with four support staff, Ziggy Butschle feels that his company has reached the optimum size.
He acknowledges that these are potentially trying times for the mining industry, and this can easily have an impact on his workflow. "The work never stops though," he says. "It might slow down, but then it will build up again."
And with the extended capabilities of its now fully kitted workshop, Ziggy's Engineering is ideally placed to take advantage of any expansion in the sector.
Ziggy's CQ Engineering
www.ziggysengineering.com.au
Hare & Forbes MachineryHouse
www.machineryhouse.com.au