EXTRA GRIP AND REDUCED WEAR ON CLAMPING TOOLS
22-01-2019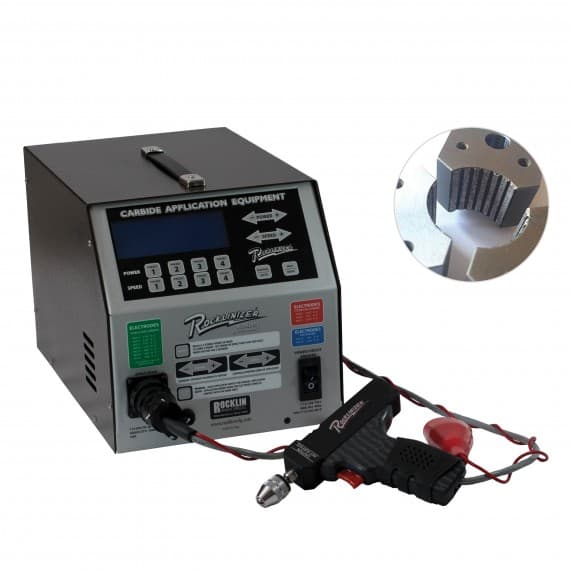 CNC turning machine tool operators can now quickly and easily boost the clamping force of their workholding equipment by a significant 50 percent using a new form of carbide application equipment.
The Rocklinizer electronically applies a hard and wear-resistant surface of tungsten carbide, titanium carbide and rock-hard electrode material to jaws and collet chucks. Material is impregnated both underneath and on top of the workpiece surface.
Unlike welding or metal spraying no appreciable heat is generated, ensuring that the temper of the workpiece is retained without distortion and that the electrode material will not separate or flake off the workpiece. After application, no heat treatment, grinding or other surface treatment is necessary.
The rotary applicator features a simple-to-operate touch panel and an easy-to-view digital readout. At just 16kg it is 100 percent portable.
The Rocklinizer is manufactured by the Sioux City, Iowa-based Rocklin Manufacturing Company, a manufacturer of industrial electronic equipment incorporated in 1934. Dimac has been appointed the sole distributor in Australia and New Zealand.
"The end result of this surface treatment is to increase productivity and reduce costs," said Dimac Managing Director Paul Fowler. "When the tools remain in operation without replacement due to wear, there will be less machine downtime, operator idle time and expense of new or re-sharpened tools. These savings alone justify the purchase of the Rocklinizer.
"The Rocklinizer offers multiple benefits including increased clamping force, extended tool life and increased productivity. It also minimises wear and downtime ultimately reducing costs. We anticipate that this product will be warmly received by CNC operators."
In addition to the Rocklinizer, Dimac is also the sole distributor of other leading CNC accessory and workholding brands including Kitagawa chucks, the Freddy range of coolant recycling machines, Reven Mist air extractors and Hydrafeed barfeeders.
Dimac Tooling
03 9771 6121
dimac.com.au