EXTRA-FLEXIBLE HOSE ENHANCES MACHINERY MAINTENANCE
15-02-2019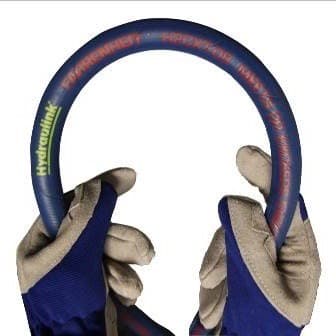 Hydraulink has developed a new compact and highly flexible multipurpose high-temperature machinery hose to simplify servicing and enhance safety in maintaining fleet vehicles and machinery.
The Fahrenheit H2CXT two-braid hose can convey, in a single hose type, multiple liquids and gases, including hot oil, air, water, glycol and inert gases, while also meeting SAE J30 requirements for carrying diesel fuel.
Very few true-bore high-temperature rubber hoses available in Australasia are rated to convey diesel, says Hydraulink Group Product Manager Garth Woodhouse. Usually a specific hose is required, generally of a nominal bore construction. The advantage of Hydraulink's true-bore construction is that standard fittings can be used to install it, adding further to the multipurpose flexibility of the new hose.
This simplicity and versatility – using one hose type where previously different types were required – is complemented by the hose's tight bend radius, which facilitates easier installation and routing in fleet machinery.
"Fahrenheit H2CXT saves time, money and inventory where owners and operators of machinery fleets need easily installed quality product to avoid downtime and excessive inventory caused by use of multiple hose types," says Woodhouse.
"The new hose's tough, compact construction and tighter bend radius make it easier to install in tight spaces, which is both a convenience and efficiency feature as well as an OH&S advantage, particularly when maintenance teams are working to deadlines on machinery vital to production."
This high-quality product is available individually or as part of Hydraulink's service provided through more than 400 service outlets throughout Australasia. It comes in sizes from 04 (13.4mm outside diameter) to -24 (46.8mm OD) and features a blue, highly abrasion-resistant MSHA cover for durability and safety and 150°C maximum operating temperature (121°C with air). This hot air rating makes it suitable for a wider range of compressor/hot air applications than more conventional high-temperature rubber hose types. The larger sizes are also ideal for bull-hose air lines on drilling rigs.
Hydraulink
1300 36 37 34
www.hydraulink.com.au