EXTENDED SUPPORT FOR AUTOMATION SHOWCASED AT NMW
06-06-2018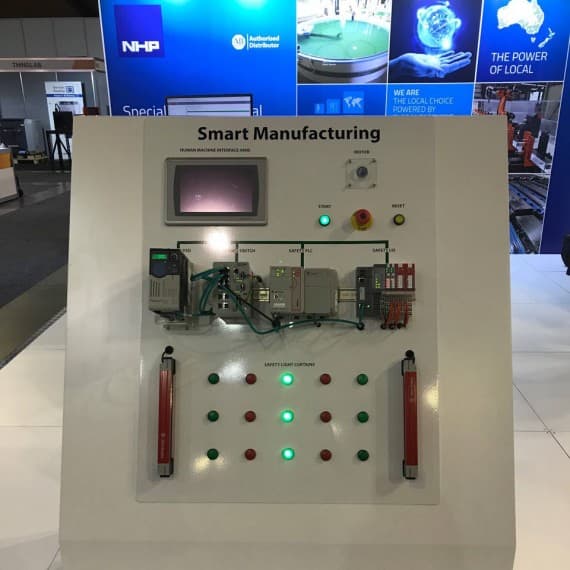 Following its recent acquisition of the Rexel Industrial Automation business, NHP has strengthened its business with an expanded team of locally based automation professionals who are specifically experienced and trained in Rockwell Automation products, systems and solutions.
The company has also expanded its warehouse capabilities across nominated branch locations with an expanded stockholding to support local customer requirements.
"With the acquisition of the Rockwell Automation related business assets from Rexel Industrial Automation, which includes a strong team of automation professionals, we have strengthened NHP's position as the local choice for specialist electrical and automation products, systems and solutions in our 50th year of operations," says NHP's CEO & Managing Director, Stephen Coop.
NHP's commitment to the Rockwell Automation product line was on show for all to see at National Manufacturing Week in Sydney, where the company focused on on smart manufacturing and leveraging increased connectivity to help customers meet their operational and business goals.
According to Michael Liberatore, Business Manager – Automation & Specialist Solutions, NHP: "Whether the goal is to increase the safety and efficiency of your manufacturing process, improve the quality of your product or to create better visibility into your manufacturing data, we offer a wealth of knowledge and experience in smart manufacturing."
NHP helps customers meet these analysis and reporting requirements by providing manufacturing intelligence software that seamlessly integrates with Allen-Bradley controllers, gathering important data in real time and by providing advanced analytics that help in decision making.
Complementing NHP's comprehensive range of industrial and automation products is the company's ability to add value to customers' continuous improvement projects. "We pride ourselves on providing custom manufactured solutions tailored to your needs, supported by expert service," explained Liberatore.
"As the sole authorised distributor for Rockwell Automation products, services and solutions in the South Pacific Region, we are now able to provide our customers with an extensive portfolio for automation and control solutions," concluded Liberatore.
NHP
1300 NHP NHP
www.nhp.com.au