Manufacturing Technology, Automation, Robotics
| Article appears in February 2020 Issue
EXPO FOCUSES ON SUPPORTING AUSTRALIAN MANUFACTURING'S EVOLUTION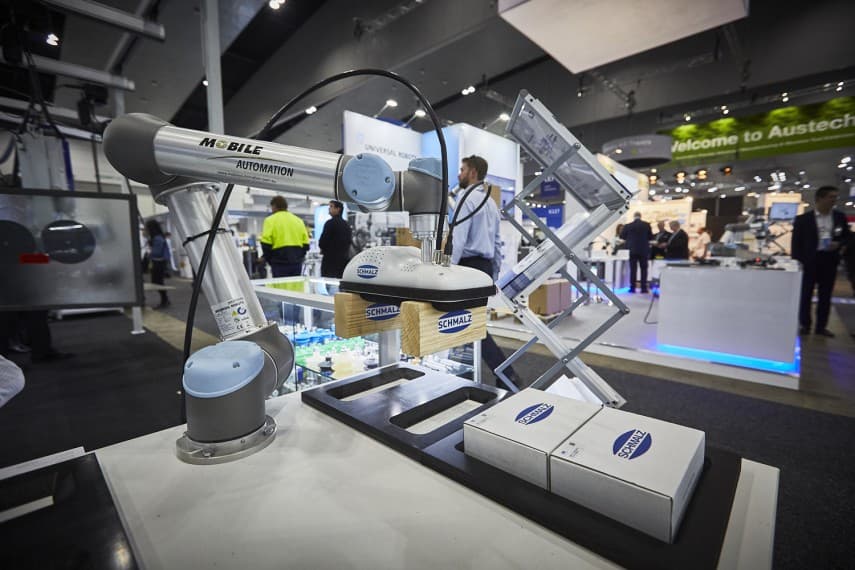 In May, Advanced Manufacturing Expo will be held for the first time to inspire future growth for the manufacturing industry and industrial sector. The expo's conference and exhibition will showcase the latest advanced manufacturing production solutions and insights with dedicated solutions providers and over 40 expert speakers.
According to the Advanced Manufacturing Growth Centre, Australian manufacturing contributes $100 billion to Australia's GDP and supports 1.27 million jobs, with the potential to increase its value nationally by as much as $34.6 billion between now and 2026.
Yet this growth is dependent on manufacturers adopting more sophisticated processes, taking advantage of cutting-edge technologies, implementing more robust business models and investing in highly skilled staff or high value services wherever possible.
It is this challenge that lays the foundation for the inaugural Advanced Manufacturing Expo, which has been developed to inspire growth in the Australian manufacturing industry and more progressive manufacturing processes.
Visitors to the expo will hear how they can increase their global competitiveness by adopting the state-of-the-art technology, revising their R&D or design processes and emphasising value creation. 
Within the expo's conference programme, visitors will have the opportunity to hear from industry thought leaders on topics including: the future of manufacturing, implementation of IoT devices, the evolution of Industry 4.0, food manufacturing, AI integration into manufacturing processes, empowering automation, autonomous and collaborative robots, additive manufacturing, government grant insights, defence and space supply chains, and advanced manufacturing skills. 
The expo's location at the Sydney Showground (Sydney Olympic Park) is a strategic decision to ensure the NSW industrial sector has direct access to these advanced manufacturing insights, which inspire future growth and evolution, whether in the conference program or through the innovative pre- and post- production solutions displayed in the exhibition.
This location also ensures easy accessibility for manufacturers and industrial SMEs based in Western Sydney, factoring in the region's focal point for investment and growth in NSW, and the Western Sydney Aerotropolis that is under development and will be a hub for advanced manufacturing.
Advanced Manufacturing Expo is being introduced following the NSW Government's launch of the Advanced Manufacturing Industry Development Strategy in 2018 and replaces the Sydney edition of National Manufacturing Week, ensuring NSW manufacturers are provided with an educational business focused industry platform.
"We are incredibly excited and proud to be able to provide Australian manufacturers with this growth focused forum. The opportunities available to manufacturers and suppliers, who adopt state-of-the-art technology like industrial IoT and integrate high-level engineering into their production processes, are incredible. We're also thankful for the contributions of our industry partners, who will have a strong presence at the expo, including the Advanced Manufacturing Growth Centre, Innovative Manufacturing CRC (IMCRC), Engineers Australia, AMTIL and Weld Australia." Jono Whyman, Exhibition Director of Advanced Manufacturing Expo, explained.
On the exhibition floor, visitors will be able to navigate through the various range of industrial and manufacturing suppliers via six designated product zones.
Automation & Robotics
The Automation & Robotic Zone will help visitors discover the latest cutting-edge technologies and find solutions to their automation challenges. This will complement the insights shared within the conference program about automation integration within manufacturing, the expansion of robots and how to address current challenges or maximise opportunities through robotics and automation.
Additive Manufacturing
Additive manufacturing or 3D printing will be a key zone for visitors due to the transformative approach to industrial production, enabled by the creation of lighter, stronger parts and systems. Visitors can expect to see solutions relating to computer-aided-design software, 3D object scanners and direct hardware, with additive manufacturing simplifying the traditional manufacturing process and material removal requirements.
Engineering & Manufacturing Solutions
The rapid emergence of Industry 4.0 (Internet of Things) within manufacturing, requires the input of high-level engineering and engineers to redesign processes and operations to accommodate the new technology that is typical of smart manufacturing facilities.
This zone will be reflective of the importance of engineering in modern manufacturing, with exhibitors showcasing the latest manufacturing equipment and tools relevant to a broad cross-section of engineering disciplines, while complementing the conference program's focus on highlighting design and process improvement approaches in manufacturing.
Industrial Internet of Things
This zone will be focused on the next industrial revolution that has already begun – the Industrial Internet of Things (IIoT). With IIoT driving unprecedented disruption in manufacturing as more and more machines are fitted with sensors, switches or intelligent controls to make factories smarter, improve operations, reduce costs and provide a safer working environment.
Exhibitors in the Industrial Internet of Things Zone will display the latest IoT software and solutions, providing a unique business interaction opportunity for manufacturers focused on becoming market leaders.
Machine Tools
The machine tool zone will be primarily focused on handling or machining metal and other rigid materials, whether by cutting, boring, grinding, shearing, or other forms of deformation.
Welding Technology
With Weld Australia finding that the nation continues to face a significant shortage of qualified welders, despite a growing demand for welders for major projects in industries such as defence shipbuilding and aerospace, local welders must be as well trained and qualified against global best practice to deliver these multi-billion-dollar projects.
The Welding Technology Zone will highlight advanced welding processes and provide high-quality interactive experiences that capture the imagination. These exhibitors will be complemented by live demonstrations through virtual and augmented reality welding simulators. And expert speakers will discuss the latest technological developments and applications in the welding sector in the conference programme.
Registration for Advanced Manufacturing Expo 2020 is now open and is free to attend for all registered industry professionals at www.advancedmanufacturingexpo.com.au.