EXPLOSION PROOF SIGNALS AND CALL POINTS COVER HAZARDOUS AREAS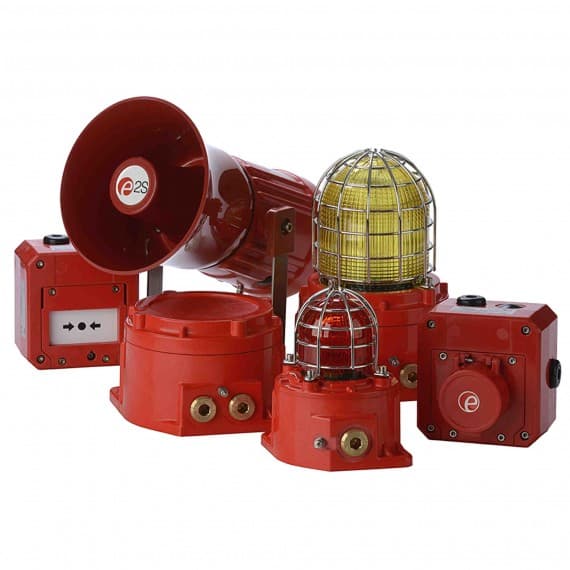 E2S Warning Signals makes a comprehensive range of hazardous location and explosion proof alarm horn sounders, xenon strobes, LED beacons, loudspeakers, pushbuttons and call points. The GNEx family is available in Australia from Mechtric, featuring GRP housings and sealing to IP66, and is approved by IECEx and ATEX for use in Zones 1, 2, 21 and 22.
The visual signals in the GNEx family feature a 5, 10, 15 or 21J xenon strobe light source, giving an industry leading, effective intensity light output, of more than 900cd for high ambient light or long-distance signalling. The LED variant contains a light source that has five flash rates: 1, 1.5, 2Hz and double and triple flashes. High and low power steady modes for status indicator uses can also be user selected.
The Cree LEDs employed in the GNExB2LD2 beacon have a life of more than 60,000 hours. DC versions feature three remotely selectable stages enabling multiple warnings to be signalled from one device.
All the GNEx visual signals have UV-stable polycarbonate prismatic lenses, which are available in amber, blue, clear, green, magenta, red and yellow and are field-replaceable. Installation time for both sounders and beacons is minimised as the GRP enclosure has a threaded flame path, multiple cable entries and a large termination area.
The alarm horn sounders have outputs up to 123dB(A) at 1m, are available with either flared or radial horns, have 64 embedded tones, including the PFEER and major national tones, and offer four stages with the first two independently selectable. 15 and 25W loudspeaker versions are available in 8 and 16Ω and 70/100V line versions for clear and powerful voice messaging in hazardous areas.
Designed for the manual activation of fire alarms, gas detection and emergency shutdown systems, GNEx manual call points are available with break glass, pushbutton and pushbutton with tool reset operation, and a comprehensive range of standard accessories. Series and EOL resistors in a range of different values can be fitted to all models as required and DPDT switching and LED indicators can also be specified.
Mechtric
1800 252 995
www.mechtric.com.au