Expert advice for Aussie manufacturers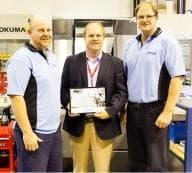 For Australian manufacturers to succeed globally they need to be looking at the future, forming partnerships and continually coming up with fresh ideas. 
This is the opinion of Sandvik Coromant Global President Klas Forsstrom during a recent trip to Australia.
"The key is work for the future, he said. "By this I mean future technologies and future ways of machining. Don't be held back by outdated practices, try to adapt faster. Work out how to cut down machining time, how to improve efficiencies and work with new materials like composites."
Mr Forsstrom was speaking during a visit to Archer Enterprises, a specialist company that offers turn-key solutions in CAD design, R&D, engineering, manufacturing, testing, analysis and assembly to a wide range of industries.
"Manufacturers should be partnering with their customers and collaborating on new ways to get products out to the market place," he said.
"Manufacturers also need to be innovative. These days innovation is much more than the end product. Innovation is about how you use the product, how you go to market. Manufacturers can add a lot of value to their customers by getting involved in the entire product lifecycle from concept to availability in the market."
Mr Forsstrom said the main changes for manufacturers have been globalisation, the increase in competition from new markets, the desire for shortened production times, hyper specialisation and the skills gap. 
"Whatever market you go into the name of the game is productivity," he said. "Companies want to decrease production time and get products to market a lot quicker. From the manufacturing point of view it means having the right tools to complete more complex tasks even faster and knowing how to increase feeds and speeds."
Mr Forsstrom said hyper specialization was now a growing trend globally.
"This is where manufacturers are specialising in very specific products or processes, he said. "Rather than look for just any type of work they focus on a dedicated area and become known as leaders in their field. This is something that is happening around the world and will be a competitive advantage for companies that are open minded and willing to focus on smaller batch orders rather than large ones. Together a lot of small volume jobs add up to something and they can be more profitable. What is needed for a manufacturer to succeed in this hyper specialisation environment is an ability to understand what the future is leading to, technical skill sets, competence and very fast turn around time."
He said Archer Enterprises is a good example of hyper specialisation because they have become well known over the years for making sophisticated performance-critical products to international standards.
Archer Enterprises has been relying on Sandvik technology for the past 20 years and Managing Director Brad Byrne says it was a real honour to host their European guest.