Published 21-11-2019
| Article appears in February 2020 Issue
EXPERIENCE COUNTS IN SURFACE PREPARATION AND FINISHING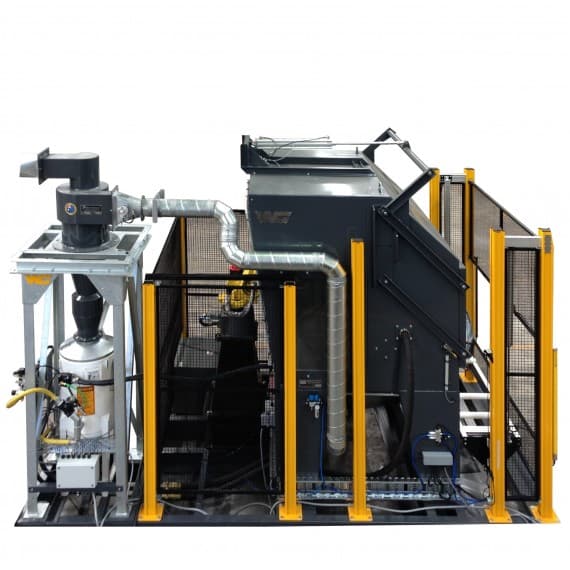 This airblast equipment for blasting the surface of carbon fibre wheels incorporates a robotic arm
A family-owned Australian manufacturer is thriving in outer Eastern Melbourne and doing so by embracing many of the concepts of advanced manufacturing within a traditional market.
W Granowski has been a pioneer in surface preparation and finishing technologies, and supplies abrasive blast cleaning and peening equipment, degreasing equipment and associated parts and consumables for a wide range of industrial applications.
For a company that is just about to celebrate its 92nd birthday, it certainly has a wealth of experience to fall back on. However, there is one part of the company's reputation that is occasionally overlooked.
"People tend to forget that we are actually equipment designers and builders," says Managing Director Caitlin Granowski. "Which is odd considering we've been designing and manufacturing our equipment here in Melbourne for more than 90 years."
As a company, Granowski prides itself on creating robust innovative engineering solutions and today accomplishes this with the use of advanced engineering techniques such as digital manufacturing, robotics, optimisation analysis and design for manufacture.
"It's always an exciting time when a customer presents us with a challenging application," says Caitlin Granowski. "It might be that they want to turn a 6m-high blast machine into a containerised 'appliance'. Or they want to precision-blast an exotic material such as carbon fibre. We're currently working on a delicate deburring application for lightweight satellite parts. As an engineering company, we thrive on these design challenges."
The company works with its customers so that its equipment can be delivered interface-ready so to be easily integrated into the user's production flow – whether the interfaces are for control, data acquisition, work handling or robotics.
Ultimately, though, it is experience that Caitlin Granowski considers to be the company's greatest strength. "Over decades, we've designed and manufactured thousands of machines, across virtually every industry segment, for both the domestic and overseas markets," she says, adding "and with 95% of our customers providing repeat business we pride ourselves on the quality of our equipment and the level of customer satisfaction and service."
It helps that the company is technology agnostic, producing both wet and dry air blast cabinets, air and airless (wheel) blast equipment and degreasing machines. This means that it can approach a customer's surface preparation application without preconceptions and produce the most suitable integrated solution for each requirement.
These solutions evolve from the WG range of custom-built blast and degreasing systems, all of which are manufactured to solve a specific problem, and encompass the full spectrum of surface preparations from fettling, deburring and descaling to polishing, etching, peening and degreasing.
W Granowski
03 9729 4333
www.granowski.com.au