EXPANDING WORKSHOP CAPACITY IS NOT ACHIEVED IN ONE WEEK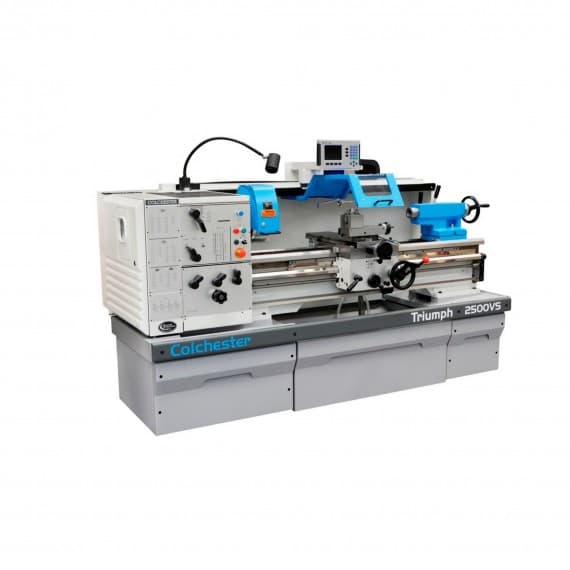 Founded in the reign of Queen Victoria, The 600 Group machines of Colchester and Harrison Lathes are found in workshops around the world.
And the company's recent introduction of new models has caused a stir in the global engineering and manufacturing sectors and, inevitably, resulted in a queue for early delivery.
A recent visit the company's headquarters in Yorkshire by the Sydney-based company's Managing Director for the Asia-Pacific region, Cliff Purser, confirmed that its philosophy of designing, engineering, and building machine tools of high quality at affordable prices was undiminished by the recent global recession.
"At this year's Open Day, I saw some superb new machines, enhancing the existing large range of models available in the Colchester, Harrison, and Clausing ranges," Mr Purser said.
Manufactured in Kalamazoo in the state of Michigan, Clausing machines have become familiar in UK, Europe, and Australia in recent times, and are now to be made available everywhere through the 600 Group's global network of branches and distributors.
"After touring the new, laboratory-like manufacturing centre in Heckmondwike, and enjoying hands-on operation of the latest batch of new models, I recognised an unswerving determination to deliver machines that have 'fitness for purpose' in addition to accuracy, reliability, and long life," Mr Purser said.
Machines making their debut on the world stage this year include:
·       Alpha 1660 and 1760XS heavy-duty CNC combination lathes. These all-new heavyweights fill the gap between the Alpha 1550XS and 2800XS with all the Alpha advantages and 600 UK's impeccable pedigree.
·       Alpha 1400XC, a CNC combination lathe being referred to as' the ultimate turning machine.' The simplest advanced lathe in the world now has full c-axis operation to its already market-leading capabilities. It adds full milling, drilling, and tapping capabilities to the Alpha, reducing the need for second-operation production on one-offs and small batches.
·       Colchester Master VS and Triumph VS. The world's best known variable-speed centre-lathes, have been redesigned for optimum performance. The newcomers have and advanced variable-speed spindle-drive in three infinitely variable ranges. They have an induction-hardened and ground bed, precision hardened and ground gears in headstock, and are built to exceed all known world safety standards.
·       Colchester Triumph 2000 – widely regarded as the ultimate geared head centre-lathe. Back by popular demand, the Triumph 2000 sets new standards in performance and productivity. It has a swing-over bed of 400 mm, and the distance between centres is 1250 mm. It has a 5.5 kW motor power, and 16 speeds in the range 25 to 2000 rpm.
Mr Purser says the Australian economy is showing signs of moving into the up side of the trough – into an era of renaissance and renewal.
"That's why I chose to visit the Open Day in UK and to meet the chief executives of 600 Group companies in our global network," he said.
This included his US counterpart, Michigan-based Don Haselton – the man who has put a Clausing machine on every major US warship.
Mr Purser said in addition to the substantially-enhanced range of high-quality machines from Colchester and Harrison from the UK, 600 Machine Tools is adding to the Clausing range currently available in Australia and SE Asia.
The new range will include drills, milling machines, bandsaws and precision surface grinders.
During his visit to Yorkshire, Mr Purser saw plentiful signs that the quiet times had been put to good use by the 600 team, with renewal, refurbishment, and innovation on all sides.
The chairman of the 600 Group, Paul Dupee, recently likened it to a swan – "serene on the surface but with vigorous action below it."
In his annual report to shareholders, Mr Dupee outlined many of the Group's advancements, including:
·       In customer service, a much improved financial position has enabled the sales and engineering team to deliver some machines and spare parts from stock quickly.
·       In the US, Clausing now has new purpose-built premises in Kalamazoo. Complementing the superb new manufacturing centre in Heckmondwike, Gamet Bearings is domiciled in the new fully-owned premises formerly used by Colchester.
·       The Group successfully launched newly-designed lathes and ancillary products under the widely recognised Colchester, Harrison, and Pratt Burnerd brands, along with improvements in delivery times for existing products.
·       More new products that broaden the Group's manufacturing base are being progressively introduced. For example, North America continues to develop a line of USA products, including drills, mills, and saws, destined for global markets.
Mr Purser said: "Overall, the company is in sound financial health, and has reinvested in its ability to meet the needs and expectations of current and prospective customers in a host of countries around the world.
"These improvements will flow through to workshops throughout Australia, and we recommend that workshop managers view the Open House review on our You Tube Channel (https://www.youtube.com/watch?v=rKY1h88NnWQ), along with demonstrations of many of the outstanding machines now available from 600 Machine Tools."
Mr Purser said over the past 120 years, the 600 Group name has become synonymous with safety.
He was especially glad to see at the Open House the enhanced Gripsafe by fellow 600 Group company, Pratt Burnerd.
Gripsafe enables users to effortlessly measure chuck gripping force, ensuring safety and peace of mind.
"It offers static and dynamic chuck gripping force measurement up to 100 kN per jaw, with three and two jaw chuck compatibility, and measures rotational speed up to maximum of 6000 rpm," said Mr Purser.
"Additional software is not required, because application software is embedded into each GripSafe unit. It has a multiple machine session feature, with real-time data capture, and data analysis functions."
"I urge everybody with a turning machine to watch the You Tube presentation of the GripSafe system – it could save your life!"
The Gripsafe system complements the Gripfast combination power chuck, which combines a chuck, a collet chuck, and a mandrel chuck in a single unit.
With Gripfast operators can increase productivity and achieve minimal non-machining time.
600 Machine Tools
Ph: 02 9674 4738