EXPANDED VICTORIAN HQ BOOSTS DRIVE QA CAPABILITIES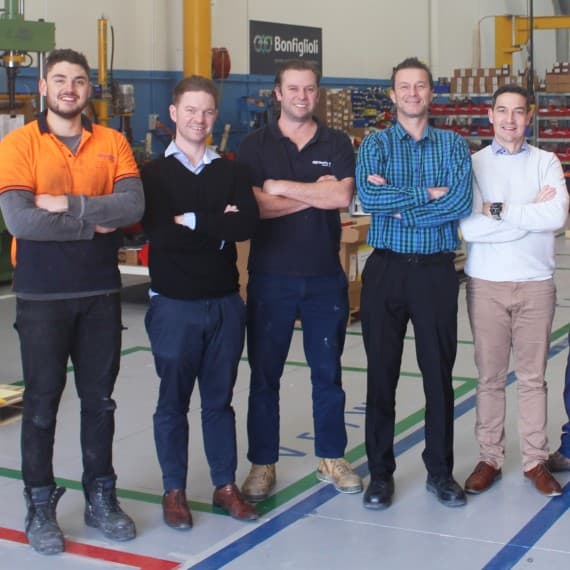 Regional Manager Michael Mullen (centre) is flanked by members of Bonfiglioli's Victorian operation at the new facility in Carrum Downs
Industrial drives specialist Bonfiglioli has doubled the size of its Victorian headquarters with its move to a new and expanded facility in Carrum Downs.
The new 1000m2 facility – with expanded quality assurance, testing and production engineering capabilities – can accommodate stock levels double that of two years ago at the previous facility in Lynbrook. The expansion will help Bonfiglioli to better serve key Victorian industries such as marine, water and wastewater, mining, waste, recycling and agriculture.
"Our customers were the key consideration in our expansion. Carrum Downs is closer to a number of important customers, and we're better able to serve all our customers with the additional space, expanded testing facilities and greater stock levels," says Michael Mullen, Bonfiglioli Regional Manager, VIC, SA and TAS.
One of the major features of the new Victorian headquarters is a dedicated QA testing area with the capacity to locally test larger size electric motors and gearboxes than the previous facility.
"At the new facility every Bonfiglioli product is QA controlled both in and out, which means that every gearbox that leaves our warehouse has been fully tested and our customers can be assured that they will meet all safety and standards compliance requirements," says Mullen.
"Bonfiglioli has a strong company focus on quality globally, and having a dedicated testing area was one of the top priorities when designing the new facility. Another focus was on smoother processes, which again contributes to greater quality control," he adds.
In addition to a dedicated testing area, the new facility also has a dedicated spray booth as well as a service area for maintenance and reconditioning of used gearboxes.
The new headquarters will be formally opened on 18th July, and Bonfiglioli is inviting all customers and suppliers to attend to see the new facility and examine the new efficient layout, designed to world standards modelled off Bonfiglioli's international headquarters in Italy.
Bonfiglioli Transmission (Australia)
02 8811 8000
www.bonfiglioli.com.au