EXOSKELETON TAKES THE STRAIN IN OVERHEAD WORK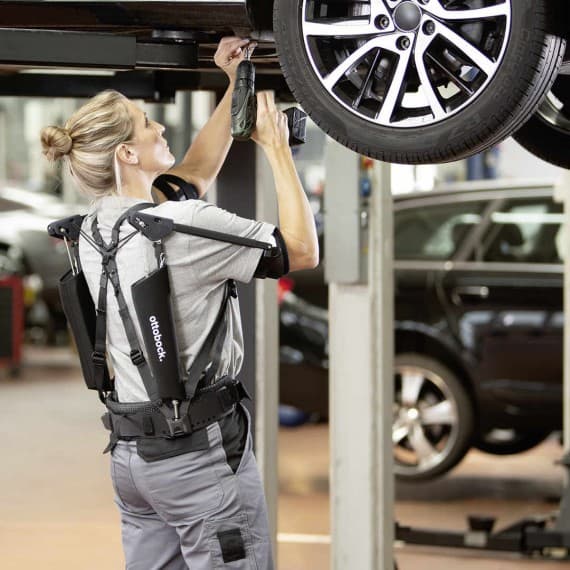 Personal protective equipment originally designed to take the strain off assembly line workers at Volkswagen in Germany has arrived in Australia. Designed and manufactured by orthotics specialist Ottobock, the Paexo Shoulder exoskeleton is designed to relieve muscular stress for workers who specifically spend long periods of time working with their arms raised.
This makes it ideal for anyone working for automobile manufacturers, in aircraft hangars, shipyards, trade enterprises or logistics companies who carry out physically demanding tasks such as overhead work in assembly.
Workers wear the Paexo Shoulder close to their body, similar to a backpack. It provides mechanical support for individual body segments in certain postures and movements through the interplay of springs or elastic bands.
When people wearing the Paexo Shoulder raise their arms, the pads around the biceps transfer weight to the hips thanks to mechanical cable pull technology. This provides noticeable relief for the muscles and joints in the shoulder region.
The device reduces critical physical strain during overhead work. This type of preventive relief could reduce the risk of work-related musculoskeletal disorders in the shoulder region over the long term.
Lotte Koenig is Ottobock's Sales & Business Development Manager Australia. She says the Paexo Shoulder is the lightest exoskeleton of its kind, weighing in at less than 2kg.
"As the design is based on natural human movements, users can walk, sit and also pick up objects with it. The suit can be worn comfortably for more than eight hours while providing noticeable relief for the shoulders and arms during overhead work'" she adds.
"It also comes in an adjustable one size fits all model, so there is no need to buy different sizes. This means each company has full flexibility for when the exoskeleton is needed in different departments."
The Ottobock Paexeo Shoulder is available now in Australia priced at $6900. The Paexo product range also includes neck and wrist supports, and the company will also be launching a back-support exoskeleton in 2020.
Ottobock Australia
02 8818 2800
www.paexo.com