Eximo unveils new ducting for CNC machining
25-11-2013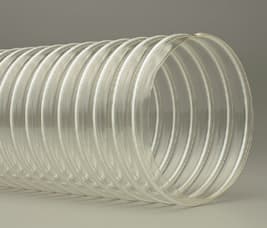 With a medium weight and flexible polyether-polyurethane construction, Eximo's CNCFlex ducting has been specifically designed for CNC processing centres.
Clear CNCFlex comes with wall thicknesses ranging from 80mm to 500mm.
Temperature resistances range from - 40°C up to + 100°C.
It is available in 10m rolls or it can be cut to any length to order.
Applications of Eximo's CNCFlex include suction and removal of dust and particles in woodworking and metalworking industries.
It is ideal for CNC processing centres or for any CNC machining applications where fumes and/or dust particles need to be effectively and quickly removed from the machining process.
Benefits include:
• Flame retardant according to DIN 4102
• Resistant to hydrolysis and microbes
• Good abrasion resistance
• Excellent flexibility
• Resistant to oil and patrols
• Free of halogen and softeners
• Electrically conductive according to
BGI 739-2 by grounding the wire
Eximo Pty Ltd