EXEMPLARY PERFORMANCE BEGINS WITH UNRELENTING PRECISION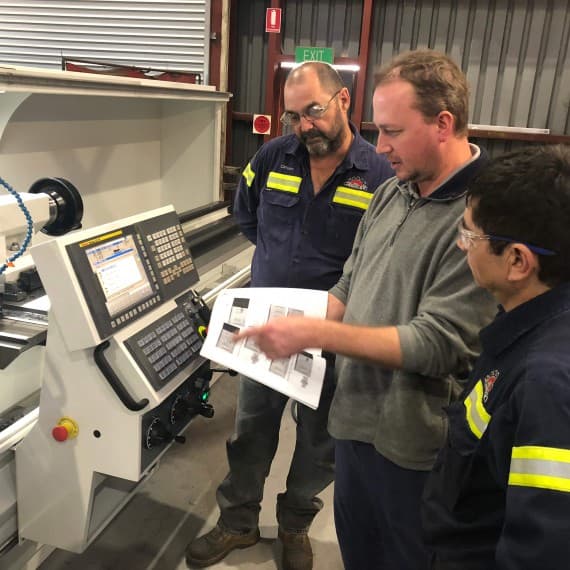 600 Machine Tools Applications Engineer Dave McDonald (centre) demonstrates the Harrison Alpha 1550XS lathe controls to Clifton Dimitrov and Miguel Vasquez of Jenmick
Every workshop manager is aware of the relationship between precision in the manufacture of machines and their reliability, efficiency and life.
One company in Queensland is acutely aware of this relationship because it is a key factor in staying ahead of its rivals – especially brands imported from Europe and the USA. Jenmick Gear Cutting & Engineering is first and foremost a well-equipped machining workshop with the capacity to carry out very precise and complex tasks on its CNC equipment.
From its early days, Jenmick has built an Australia-wide reputation for the quality of its gears, and this dedication to excellence is reflected in its choice of new machinery for its Bassett Street workshops.
The latest machines to be installed are a Joemars AWT3S wire cut and a 3-metre Harrison Alpha 1550XS lathe. Both machines were supplied, installed, and commissioned by the exclusive agent in Australia, 600 Machine Tools.
The AWT3S is the latest in a family of wire cut machines from one of the world's leaders in this technology. It handles workpieces up to 210 x 560 x 205mm, weighing up to 300 kg.
Calibrated in millimetres, it boasts X travel of 350, Y travel of 250, Z travel of 210, U travel of 80, and V travel of 80.
In electric discharge machining (EDM) technology, a thin single-strand metal wire, usually brass, is fed through the workpiece, submerged in a tank of dielectric fluid, typically deionised water. Material is removed from the workpiece by a series of rapidly recurring current discharges between two electrodes. The process depends on the tool and workpiece not making physical contact.
Managing Director of Jenmick, Clifton Dimitrov, explains: "Wire-cut EDM can cut intricate contours or cavities in prehardened steels without the need for heat treatment to soften and re-harden them.
"This method can be used with other metals or metal alloys, including titanium, Hastelloy, Kovar, and Inconel."
High precision
Dimitrov notes that the AWT3S has Windows-based operation, with a very stable power system that increases machining efficiency: "We are now capable of machining even more complex shapes that would otherwise be difficult to produce with conventional cutting tools, and we can cut extremely-hard material to very close tolerances," he says.
"Our customers all over the country will appreciate our ability to machine very small workpieces where conventional cutting tools may damage the part from excess cutting-tool pressure.
"With EDM, there isn't any direct contact between tool and workpiece and, therefore, delicate sections and weak materials can be machined without perceivable distortion."
He adds: "Furthermore, a good surface finish can be obtained by redundant finishing paths, very fine holes can be achieved, and tapered holes produced. Pipe or container internal contours and internal corners are achievable down to R .001."
A good turn
The second machine now on line at Bassett Street is a CNC combination lathe from one of the most famous names in turning – the century-old Harrison of Yorkshire.
Clifton Dimitrov notes that the XS CNC combination lathe range is popular for its fast, high-quality repeatability, accuracy, and surface finish to exacting toolroom accuracy standards (DIN 8605).
"As we moved into general engineering, our client-base expanded and, accordingly, our workshops implemented a wider range of services," he says.
"For example, in addition to CNC lathes, we now have large radial arm drills, a drill press, and a 100-tonne press. In prototype or production runs, the new Alpha combination lathe, with its Fanuc OiTF control, means that we can now apply our renowned precision to workpieces of up to three metres in length."
A quantum leap
Manager of the Brisbane branch of 600 Machine Tools, Wally Nujin, says: "The ease of operation of the user-friendly Alpha range has been appreciated not only in the workshops of industry, but also in the workshops of education and training centres around the world.
"Fast, easy set-up times and simple operation in all modes are the keys to the Alpha's global success. The series benefits from the ultra-high speed OiTF CNC control along with Harrison's own developed Alphalink software."
Nujin adds: "Now available is the remarkable Alpha XC model. It can execute off-centre drilling and boring, hexagonal milling, and much more. It is a combination CNC lathe that gives workshops the ability to perform secondary operations that usually require machining centres or expensive slant-bed CNC turning centres."
Readers are invited to view the video clip here.
The personal touch
Established in 1999 by Clifton and Sandra Dimitrov, Jenmick is a family-owned and operated business. It has built a reputation throughout Australia for being a world-class gear cutting company.
It is based in Gladstone, the fifth largest multi-commodity port in Australia, and the world's fourth largest coal-exporting terminal, handling 50 million tonnes annually.
Major exports include cement products, sodium cyanide, ammonium nitrate. alumina, and aluminium from the nearby Boyne Island smelter. Jenmick provides exemplary services to the industries that export these products – and many others around the country.
600 Machine Tools
02 9674 4738
www.600machinery.com.au