EXECUTIVE SAFETY FOOTWEAR COMBINES SMART STYLE AND COMFORT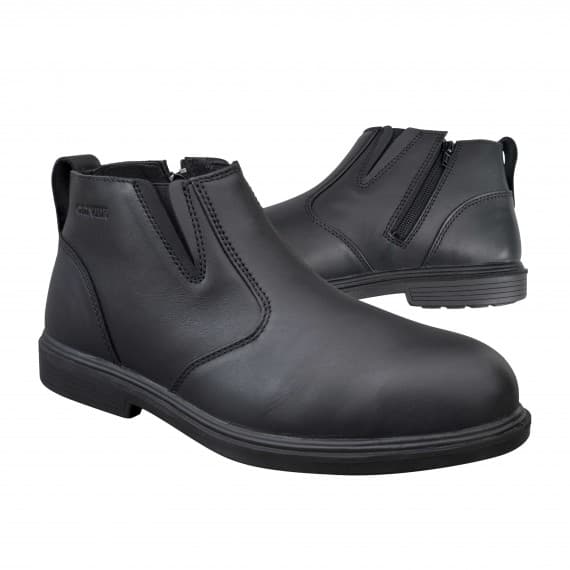 The Oliver PB 38 black zip side boot
The Oliver PB 38 Executive is a dual-purpose footwear range that looks smart in an office environment, and provides safety protection and outstanding comfort features out on site.
There are three choices: the standard black derby shoe, a black zip sided ankle boot and a black elastic sided boot - each providing the wearer lightweight, stylish footwear with premium water-resistant soft-touch leather uppers and a full leather lining. Users can experience leading comfort in safety footwear all day long, whether they are onsite or in the boardroom.
The contemporary styling is matched by the proven Oliver combination of the PB dual-density polyurethane sole, which provides excellent slip, crack and split resistance, as well as having a heat resistance to 130°C, accompanied by a lightweight shock absorbing PU midsole with a hard-wearing outsole for a variety of working conditions and industries, including manufacturing, hospitality, logistics and architecture.
Protection of the foot against drop or impact events is afforded by the NATUREform steel safety toecap with its wider profile for added comfort.
All three choices in the Oliver PB 38 Executive range comply with all relevant AS/NZS and relevant EN and ASTM International footwear quality standards.
Up until April 30th, Oliver offering the chance to win one of 10 De'Longhi Espresso coffee machines, when you purchase a pair of boots from the Executive range. Simply purchase from participating retailers, and enter at www.oliver.com.au. (T&Cs apply.)
Oliver Footwear
1300 126 687
www.oliver.com.au