EXECUTIVE FORUM DISCUSSES SMART FACTORY SOLUTIONS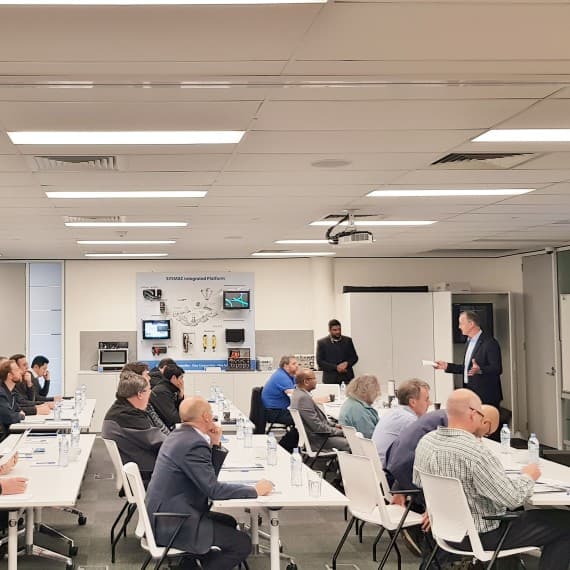 Omron Electronics recently held a successful executive forum in partnership with Microsoft to discuss smart factory solutions with the IoT. The forum explained in detail how Omron's latest automation solutions improve business efficiency and increase revenue and profitability.
In preparation for Industry 4.0, Omron's unique value proposition for a smart factory includes an extensive range of sensors with IO-Link, robotics, and machine vision systems with traceability.
"Omron is an innovative manufacturing technology partner, with greatest line-up of products and application software in the Industry. With more than 200,000 products from relays to robots and 80-plus years of experience in sensing and control," said Manav Mandal, Business Development NSW.
He further discussed how the Smart Factory, as a global trend, can help industries achieve optimum operation, real-time or predictive data, people utilisation, and lastly reducing cost for repair, maintenance or downtime.
"At Omron, our goal is to optimise the manufacturing process by reducing machine downtime and increasing return via machine optimisation (OEE). We aim to run seminars and forums to discuss methodologies for creating a manufacturing business that are efficient and sustainable utilising latest technology," added Milorad Srdic, Business Development VIC.
The forum concluded by demonstrating cyber safety and security and IoT solutions provided by Microsoft Azure. Azure IoT solution accelerators can assist organizations meet their challenges by offering them a set of cloud services that will accelerate IoT projects and aid in staying competitive in the market.
Omron will be holding similar seminars in the near future.
Omron Electronics
1300 766 766
www.omron.com.au