Excision stands for dependability and performance
31-08-2010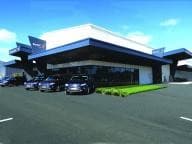 Top quality performance products … Excision's Melbourne headquarters
Working with precision industrial machines, blades and tools significantly enhances a businesses' ability to produce top quality results.
Excision is a wholesaler of premium industrial equipment and consumables, supplying a large network of distributors across Australia and beyond.
Since its establishment some 20 years ago Excision has gained a reputation for high quality, high performance products and outstanding customer service.
Its product line includes magnetic based drills, bandsaw blades, coldsaw blades, bandsaw machines, coldsaw machines, geared head drills, belt driven drills, laser level systems, core drills, holesaws and more.
Unfortunately some operators expect first rate results from second rate equipment. 
Blades, cutters and other consumables are often a case in point. To the average eye, one looks as good as another yet can be worlds apart when it comes to performance.
It takes dependable precision tools and machinery to create quality precision products. It's about accuracy, durability, and maximum return on investment from equipment that produces precision products to the standards Excision's distributors and end-users expect. Better quality machinery and consumables translate into more cost-effective operations. 
And when Excision's customers deal with them, they receive the finest technical support and industrial experience to maximise their output. 
It stands to reason – better tools increase productivity, improve profit margins and drive your dollar further. 
Excision is a supplier of high quality, high performance bandsaw blades, whose distributors supply a large network of metal working fabricators, engineers and other industry markets throughout Australasia.   
They source their raw material from leading international manufacturers and value-add through additional manufacturing at their purpose-built factory. 
Excision is a third generation business, fully Australian-owned and operated. Its team strives to respond quickly to every request with fast and efficient solutions, every time. 
Excision
Ph: 1800 633 448