EXAIR'S SUPER AIR KNIFE CUTS COMPLICATIONS
18-10-2016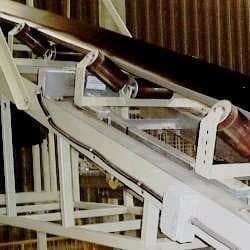 The Super Air Knife is a quiet, hard-hitting curtain of air for blowoff, cleaning, drying and cooling.
It is the latest generation of air knife that dramatically reduces compressed air usage and noise when compared to other blowoffs. The Super Air Knife offers a more efficient way to clean, dry or cool parts, webs or conveyors.
Compressed air flows through an inlet into the plenum chamber of the Super Air Knife. The flow is directed to a precise, slotted orifice. As the primary airflow exits the thin slotted nozzle, it follows a flat surface that directs the airflow in a perfectly straight line.
This creates a uniform sheet of air across the entire length of the Super Air Knife. Velocity loss is minimized and force is maximised as the room air is entrained into the primary airstream at a ratio of 40:1. The result is a well defined sheet of laminar airflow with hard-hitting force and minimal wind shear.
The Super Air Knife uses only 1/3 of the compressed air of typical blowoffs used in cleaning, cooling and drying operations and can be instantly cycled on and off.
Noisy blowoffs become a whisper when replaced with the compact Super Air Knife. Even at high pressures of 80 PSIG (5.5 BAR), the sound level is surprisingly quiet at 69 dBA for most applications! Amplification ratios (entrained air to compressed air) of 40:1 are produced. The Super Air Knife meets OSHA dead-ended pressure and noise requirements.
Compressed Air Australia.
http://www.caasafety.com.au/air-knives/super-air-knife