Exair unveils high-powered drum vacuum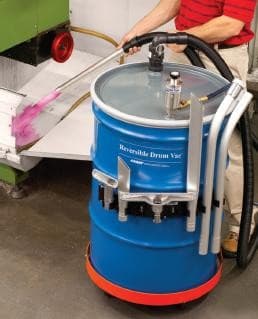 Exair's new Premium Reversible Drum Vac System, available from Compressed Air Australia, is compressed air powered and has no motors or impellers to clog or wear out.
Its high-powered vacuum fills a 205L drum in less than two minutes.
With the simple turn of a knob, the same stainless steel pump quickly empties the drum. Coolant sumps can be easily refilled, floor spills vacuumed or contaminated liquids transferred to filtration tanks in minutes.
The flow rate in and out of the drum can be controlled with the knob, making it ideal for dispensing liquids.
Electrically operated "all purpose" vacuums aren't designed for use in industrial environments. As a result, motors wear out quickly and impellers clog.
The Reversible Drum Vac does not use electricity and has no moving parts, assuring maintenance free operation. An automatic safety shutoff valve prevents spills or overfilling.
The Premium Reversible Drum Vac System comes complete with a two-way pump assembly, shutoff valve, 3m static resistant hose, 6m compressed air hose, heavy duty tools, spill recovery kit, tool holder and 205L drum dolly.
Compressed Air Australia Pty Ltd
Ph: 1300 787 688
www.caasafety.com.au