EXAIR RELEASES THEIR NEW CATALOGUE 30
02-08-2016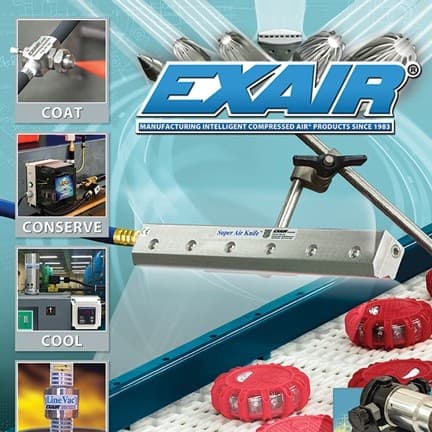 EXAIR's has released their new Catalogue 30, which is their best, catalogue which is a colourful technical guide that offers solutions for conveying, cooling, cleaning, blowoff, drying, coating and static electricity problems.
Catalogue 30 introduces new Cabinet Coolers, Line Vac Air Operated Conveyors, Heavy Duty HEPA Vacs and Stainless Steel Air Jets.
• 316SS Cabinet Cooler systems in 275 and 550 Btu/Hr solve overheating problems for small electrical panels in corrosive and harsh environments.
• EXAIR has expanded our already large selection of Line Vacs – an excellent way to convey parts, material and waste. Brand new Stainless Steel models in 2-1/2" (64mm) and 3" (76mm) sizes provide even more options and are available in Type 303 and Type 316 Stainless Steel, as well as in Heavy Duty, Threaded and Heavy Duty Threaded styles. 
• Stainless Steel plumbing kits for all Super Air Knives ease installation, eliminate pressure drops through poor fittings and prevent the hunt for hardware.
EXAIR products can help companies conserve compressed air, reduce dangerous noise levels and eliminate harmful dead end pressures.
To download the electronic catalogue or request your complimentary copy, please click here.