EXAIR Chip Vac now CE compliant
31-08-2010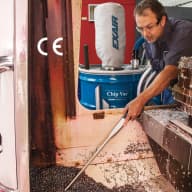 Independent laboratory tests now certify that EXAIR's Chip Vac meets the rigorous safety, health, and environmental standards of the European Union that are required to attain the CE mark.
Chip Vac offers a fast, effective way to pick up chips and other debris and deliver them to a 5 or 44  gallon drum.
The compressed air operated Chip Vac can be easily moved from drum to drum to keep different materials separate for recycling. It creates a powerful direct flow action that effectively moves chips and scrap materials. It is used to clean chips from fixtures, floors and work surfaces of machining centres, lathes, saws, mills and other industrial equipment.
There are no motors to clog or wear out, assuring a long life with virtually no maintenance.
Chip Vac is also covered by a five-year warranty.
Chip Vac systems include a drum lid with a locking ring that fits an open top drum, flexible vacuum hose, filter bag, and tools.
Deluxe systems are available in 5 and 44 gallon sizes and add a drum dolly and tool holder for larger sizes. Premium Systems include an upgrade to static resistant hose and heavy duty aluminium tools. 
Compressed Air Australia
1300 787 688
www.caasafety.com.au