EXAIR chip trappers now CE compliant
31-08-2010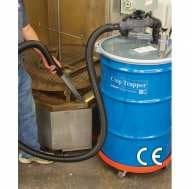 EXAIR's Chip Trapper has met the rigorous safety, health, and environmental standards to attain the CE mark – Europe's highest safety standard.
Chip Trapper offers a fast, easy way to clean large coolant sumps. It removes the solids such as chips, swarf and shavings out of used coolants and other liquids. 
The Chip Trapper vacuums the coolant or liquid that is filled with debris into the included 55 gallon drum, trapping all the solids in a reusable filter bag. 
With a turn of the flow valve, clean liquid pumps back out. Expensive coolant that used to last only six weeks can now last six months with regular use of the Chip Trapper. 
It is ideal for use on machines with sumps, parts washers, tanks and storage containers. 
Available from Compressed Air Australia, Chip Trapper is compressed air powered and has no motors or impellers to clog or wear out. 
Safe operation is assured with a built-in pressure/vacuum relief and an automatic safety shutoff valve that prevents spills or overfilling. 
The Chip Trapper comes complete with the stainless steel two-way pump assembly, directional flow valve, 30, 55 or 110 gallon drum, lever lock drum lid, shutoff valve, 3m vacuum hose, 6m compressed air hose, chip wand, (2) filter bags and a drum dolly. An optional Spill Recovery Kit is available.   
Compressed Air Australia Pty Ltd
Ph: 1300 787 688